The Evelyn Alexander Wildlife Rescue Center of the Hamptons celebrated another year of rehabilitating and successfully releasing animals back into the wild across Long Island with its annual GET WILD Summer Gala.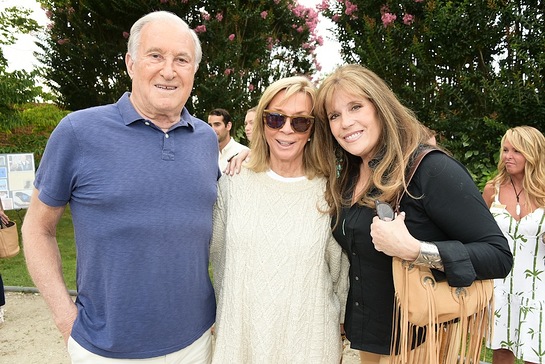 The event was hosted by the Marder family at the Silas Marder Gallery in Bridgehampton, NY on Saturday, August 8, 2015 and honored artists April Gornik & Eric Fischl, Amy Sullivan and Real Estate Broker Susan Penzner.
Notable Attendees Included: Leslie Alexander (Benefactor, The Evelyn Alexander Wildlife Rescue Center); April Gornik & Eric Fischl (Honorees, Get Wild Gala); Amy Sullivan (Honorees, Get Wild Gala); Susan Penzner (Honoree, Get Wild Gala); Peter Beard (Photographer); Dina & Steve Hanson; Anne Hearst &Jay McInerney; Linda & Ben Lambert; Howard Lorber and Jeaninne Gourin (Douglas Elliman); Nicole Miller (Fashion designer); Tony Peck & Paula Peck; Jill Rappaport (Correspondent, NBC news); Jay Schneiderman (Emcee, Get Wild Gala; Legislator); Jean Shafiroff (Philanthropist); Fred and Nancy Thiele (New York State Assemblyman); Anna Throne-Holst (Southampton Town Supervisor); Ginnie Frati (Executive Director, The Evelyn Alexander Wildlife Rescue Center); Shelley Berkoski (Director of Development, The Evelyn Alexander Wildlife Rescue Center).
Guests enjoyed live music along with cocktails and light fare. A silent art auction, which was live on Paddle8 leading up to the event and available for guests on tablets set up around the event space. Items for auction include: Untitled by Ross Bleckner, an oil painting on canvas, valued at $10,000; April Gornik's Reflected Sunset, valued at $7,000; Eric Fischl's drawing Untitled (Showering Girl From Behind), Valued at $8,000 and Aurora Borealis, an oil and spray paint on canvas, by Adam Stennett to name a few.
This year's GET WILD Summer Gala sponsors included: Leslie Alexander; Tara Allmen, MD; Ingrid Arneberg & Will Marin; Hilaria & Alec Baldwin Foundation; Nejma & Peter Beard; Albert Behler; Peter Benedek; Rosalie Brinton; Catherine Cahill & William Bernhard; Marty & Michele Cohen; Ron Delsener; Douglas Elliman, LLC; Susan Dusenberry; Pat Garrity & Corcoran; Gentry Construction; Hamptons Magazine; Harmlesss Harvest; Karen & Jeff Hughes; Hutchinson Landscape; Frances Jones & Keith Douglas; George & Mariana Kaufman; Hon Martin J. Kerins; King Kullen; Linda & Ben Lambert; Leslie Wine; Mr. & Mrs. Robert Marston; Howard Marton; Jay McInerney; Susan Mead; Nicole Miller; Jewel & Bob Morris; Margo & Jimmy Nederlander; Norman Peck; Katharine Rayner; Agena Rigdon, DKR Shores Inc.; Dayton Ritz & Osborne; Pierce Roberts & Jonathan Canno; Press News Group; Andrew Sabin Family Foundation; Sagaponack Charitable Trust; Ellen & Chuck Scarborough; Shinnecock Animal Hospital; Brian Slaga, East West Marine; Barbara & Randall Smith; Allison Stern; Roger & Karen Stevens; Ted Moudis Associates; Jerry Turco and Holly Whitmore.