This fall, teens participating in a safe driving program have the opportunity to help their high school win a $100,000 grant and a private concert from acclaimed indie-pop siblings Echosmith, known for their hit single 'Cool Kids'.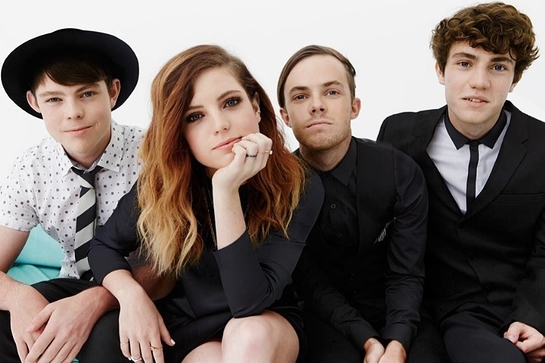 During the 2015-2016 high school year, State Farm is collaborating with Echosmith as part of its annual Celebrate My Drive program. The program, which initially began in 2012, emphasizes the positives of safe driving and celebrates teens across the country for their dedication to safe driving habits, like Drive2N2 – 2 eyes on the road and 2 hands on the wheel. In 2014, more than 6 million safe driving commitments were made by teens and their communities.
"It was only a few years ago that some of us were getting our driver's licenses and we remember that exciting time," said Sydney Sierota, lead singer of the LA-based Echosmith. "Safety for teen drivers is a major issue today, so we're thrilled to be working with State Farm on Celebrate My Drive to encourage safe driving during teens' first years behind the wheel. We hope through this program, we'll bring awareness to this important issue and potentially help save lives."
This year's celebration puts teens and their high schools front and center. From Oct. 12 starting at 7:00 a.m. CT through Oct. 25 ending at 12:59 p.m., high school administrators will submit their high school's creative proposals addressing teen driver safety issues in their communities via www.celebratemydrive.com. Submissions are to include creative elements showcasing the key program message, #Drive2N2. High schools that submit a proposal will be in the running to be the top 100 Finalists for public voting and the chance to win one of the 22 $100,000 grants available. The 22 winners will include 11 small high schools and 11 large high schools, based on student enrollment. In addition to the grant, one high school will win a private Echosmith concert at their high school.
Once creative proposals, including photos and videos, are submitted and finalists identified, the public will vote on their favorite entries. The voting process is open to any U.S. resident (ages 14 and up) beginning at 12:01 a.m. CT on Nov. 9 and will remain open through 11:59 p.m. CT on Nov. 13.
"Getting a driver's license is an awesome opportunity for a teen, but is also a huge responsibility for themselves and others they share the road with", said Ed Gold, Advertising Director for State Farm. "Building this relationship with Echosmith allows us to connect directly with the young adult audience to remind them to #Drive2N2. As the leading Auto Insurance company in the U.S. for over 70 years, we want all teens and all drivers to drive safely. Our Celebrate My Drive program encourages teens to understand that driving safely is cool and can save lives, while they celebrate the opportunity and the freedom that comes from learning to drive."
The Celebrate My Drive program engages teens and the adults who influence them to have supportive and positive conversations about safe driving. Sadly, for more than 30 years, car crashes have been the leading cause of teen deaths. For official rules, visit www.celebratemydrive.com.