Echosmith and the world-famous Hard Rock brand are thinking pink in support of the 16th Annual PINKTOBER campaign.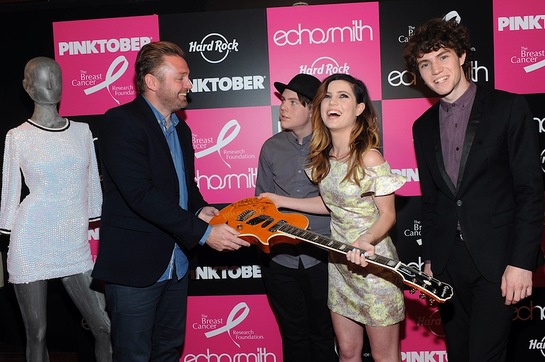 Starting now through the month of October, guests can support breast cancer research to help eradicate a disease that affects millions by visiting Hard Rock properties around the world and purchasing pink merchandise, pink drinks and pink hotel amenities. Proceeds from PINKTOBER will benefit research and awareness-driving efforts for the Breast Cancer Research Foundation (BCRF), The Caron Keating Foundation and cafe events will benefit additional local breast cancer charities around the globe.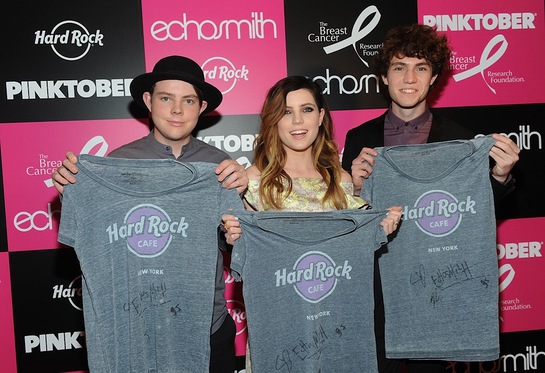 "Millions of people across the globe are affected by breast cancer, so to us, there isn't anything cooler than helping to raise awareness and support for such an important cause," said Sydney Sierota of Echosmith, PINKTOBER Artist Ambassador. "Hard Rock's extensive and empowering PINKTOBER campaign is the perfect opportunity for us to help make a difference."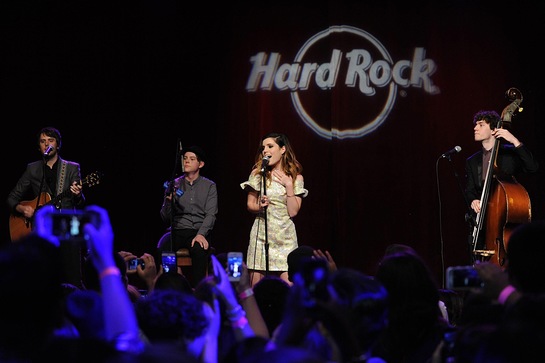 To officially mark the start of Hard Rock's PINKTOBER campaign, Echosmith hosted a free concert at Hard Rock Cafe New York on Monday, Sept. 14 at 7:30 p.m. In addition to performing hits from their debut album Talking Dreams, including the certified double platinum track "Cool Kids" and new single "Let's Love," Echosmith made a memorabilia donation to Hard Rock's world-famous collection – including Sydney's dress, a guitar, as well as handwritten lyrics to their hit, "Bright."
"With the support of artist ambassadors like Echosmith and all of our fans around the globe for Hard Rock's annual PINKTOBER program, we can help raise more funds each year and assist our charity partners by funding critical breast cancer research," said John Galloway, Sr. Vice President and Chief Marketing Officer at Hard Rock International. "Through the global campaign, which unites Hard Rock Cafes, Hotels and Casinos, we are able to spread the message of strength, hope, awareness and support, which impacts the lives of millions of men and women worldwide."
Shop to Support
Hard Rock's PINKTOBER campaign helps fans shop for the cause with the 2015 PINKTOBER merchandise line, including a collector's edition pin set, T-shirts, scarf, bathrobe, pink sheets and more! PINKTOBER products will be sold online at www.hardrock.com, Hard Rock's Collectable PINKTOBER pin is available at properties worldwide, including Cafes, Hotels and Casinos, and the PINKTOBER unisex T-shirt is available at Hard Rock Hotels worldwide. Proceeds will benefit BCRF (U.S.) and The Caron Keating Foundation (EU), with 75 percent of the retail price of each pin and 15 percent of the retail price of other products sold going directly to the cause.
Serving up a Good Cause
Giving back never tasted so good! As part of PINKTOBER, Hard Rock Cafe locations are serving up sweet support with a special pink-inspired drink. Hard Rock Cafe's non-alcoholic Wildberry Smoothie is a frozen blend of fresh bananas, piña colada mix, orange juice and Monin Wildberry. This drink special carries the color of hope and raises funds for the cause, with a portion of proceeds benefiting BCRF and The Caron Keating Foundation.
Stay to Give Back
As a long-time supporter of the brand and Artist Ambassador since 2012, Bret Michaels celebrates PINKTOBER at Hard Rock Hotel Orlando on Thursday, September 24. The legendary rocker and global philanthropist will perform at Velvet Sessions, Orlando's only rock 'n' roll cocktail party, and kick off the 16th Annual PINKTOBER campaign for all Hard Rock Hotel and Casino locations. At the event, Michaels will also "get into bed for the cause" and meet with survivors, as well as women currently battling breast cancer.
Hard Rock Hotel guests can support PINKTOBER throughout September and October by staying in Pink Sheets Rooms. Select Hard Rock Hotels worldwide will offer special rooms dressed with Hard Rock's pink sheets. Guests can support the cause and enjoy pink sheets, pink bathrobes, commemorative pins and more with a portion of the room rate benefitting the BCRF.
In addition Pink Sheet Rooms, guests can support the cause by joining one of the many activations happening at the individual properties, such as walking for a cure during Hard Rock Hotel & Casino Punta Cana and Seminole Hard Rock Hotel & Casino Tampa's charity walks or participating in Hard Rock Hotel Vallarta's Zumbathon dance marathon.
Social Message of Strength
As part of the 2015 PINKTOBER campaign, Hard Rock encourages fans to show off their support and strength with #PINKTOBER on social media. Whether sharing photos of Hard Rock's PINKTOBER merchandise, or displaying how they support breast cancer awareness in their daily lives, Hard Rock looks to its guests to join the fight and utilize the #PINKTOBER hashtag in their social media posts this fall.
For more information on Hard Rock's PINKTOBER campaign and Echosmith's performance at Hard Rock Cafe New York, please visit www.hardrock.com.