The Multiple Myeloma Research Foundation (MMRF) raised more than $2 million at the annual Fall Gala this past Saturday in Greenwich, Conn.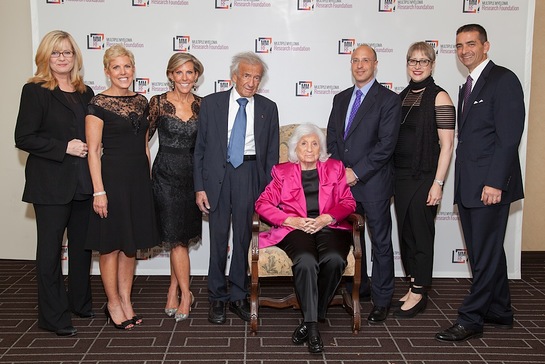 Over 800 supporters and philanthropists, multiple myeloma patients, and celebrity guests came together to celebrate the MMRF's commitment to cancer patients at one the country's largest cancer research benefits and the highlight of the social calendar.
Oscar- and Grammy-Award winning singer and songwriter John Legend performed a special set of songs, including well-known favorites "Ordinary People" and "All of Me", for guests at the Hyatt Regency. The Mistress of Ceremonies for the evening was Bonnie Hunt, Actress, Director, Producer and Writer and MMRF Honorary Board of Directors.
Two remarkable patients were recognized for their willingness to share their personal cancer journeys in order to raise awareness and help others living with cancer. Nobel Laureate Elie Wiesel and the Wiesel family were honored with the MMRF Courage and Commitment Award. Mr. Wiesel is a holocaust survivor, renowned author and the President of The Elie Wiesel Foundation for Humanity. He was joined in receiving these honors by his wife, Marion Wiesel and his son, Elisha Wiesel.
MMRF Founder and Executive Chairman, Kathy Giusti thanked the Wiesel family for stepping forward to share Professor Wiesel's battle with multiple myeloma, a rare and currently incurable blood cancer. Reflecting on the family's enormous kindness and genuine caring for others, Giusti said, "Working with Elie Wiesel and his family has been one of the greatest gifts of my life. To have a window into the personal lives of such greatness has been humbling. I'm thrilled to share that Elie has made amazing progress as a result of the many treatment options available to him and his health is strong."
Karen E. Andrews, MMRF Co-Founder and a current member of the MMRF Board of Directors, was also honored with the MMRF Spirit of Hope Award. Ms. Andrews co-founded the MMRF in 1998 with Giusti, her twin sister and a myeloma patient. Ms. Andrews has been a steadfast champion of accelerating cancer research and has helped the MMRF to become one of the leading research foundations in the nation, if not the world. A Greenwich, Conn. resident, Ms. Andrews also serves as the Senior Vice President and General Counsel for the March of Dimes.
Giusti was proud to recognize her sister as, "an accomplished attorney and co-founder of the MMRF, a tireless board member and a courageous survivor who shared her own journey with breast cancer in an effort to assist others."
Presenting sponsors include: Takeda Oncology and Janssen Oncology. Funds raised through this premier event will benefit the groundbreaking cancer research models of the MMRF, which are aimed at accelerating the development of new treatments to extend the lives of myeloma patients and find a cure for multiple myeloma, the second most prevalent blood cancer.
"We are extremely grateful for the support and partnership of so many courageous patients, their families and industry leaders. Their support and continuous collaboration will enable us to continue to build game-changing models in tissue banking, genomics, clinical trials and open access data sharing, driving leading-edge research and ground-breaking new treatments until we overcome this disease," said Walter Capone, President and CEO of the MMRF.
Additionally, the MMRF partnered with Charity Buzz Auctions to garner additional awareness and funds for cancer research. Exclusive and premier auction packages include VIP tickets to The Tonight Show with Jimmy Fallon, a private audition with Monte Lipman, the founder and CEO of Republic Records, several luxury vacations in the Caribbean and Napa Valley, and two footballs autographed by complete AFC and NFC teams. Bidding will remain open until 3 p.m. EDT on November 5. For a full list and descriptions of auction items, please visit: www.charitybuzz.com/mmrf.
The MMRF is proud to work with some of the world's most respected research and medical industry partners. Together they have fueled studies, initiated trials, developed treatments and introduced new medicines that are having a lasting impact and saving lives across many cancers.
For more information about the MMRF Annual Fall Gala, click here or call 888-584-5463.