Supporters, celebrities and friends of The Glenholme School, a special needs boarding and day school, joined together for the fifth annual scholarship fund raising event, "Opening Doors," sponsored by the school's Development Board at Bryant Park Grill in New York City on October 21, 2015.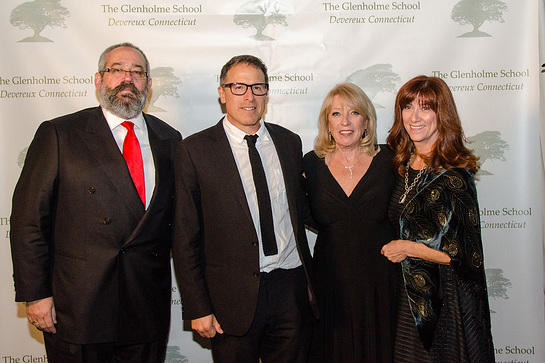 When board member Director David O. Russell walks into a room, it becomes electrified and you know something special is going to happen. Mr. Russell, a parent of a Glenholme student, holds this charity near and dear to his heart along with his board colleagues. Sprinkling his signature "stardust" with Robert De Niro, Grace Hightower, Harvey Weinstein, Dascha Polanco, Cristin Milioti and Isabella Rossellini in tow, Mr. Russell created an exhilarating evening with close to two hundred guests and raised over $400,000.
Guests mingled and posed for photos with celebrities, and bid on an array of specialty items in the silent auction. Followed by a lovely dinner where guests were welcomed by Executive Director Maryann Campbell and Board Co-Chair Doug Bowen, who spoke of the enduring effect Glenholme has had on his son and family. Sue Seaver, a recipient of the Scholarship Program, offered how the school's scholarship affected her daughter and her family, and shared the many improvements in her child's growth and development. Supporters then bid fervently on fascinating trips and private events including an exclusive in-home dinner by chef Bradley Stellings, a winner of the Food Network's "Chopped."
Concluding the live auction was the ardent Glenholme champion, David O. Russell, who stirred the audience with his powerful oration of what young people with disabilities feel and live with each day. He then gave a moving testament to the school and once again offered exclusive movie items including tickets to the premier of his soon-to-be-released movie, "Joy," and walk-on movie roles to his next upcoming film. Funds raised for these Hollywood events were surprisingly matched by Harvey Weinstein.
A special moment closed out the evening as everyone joined in celebrating Executive Director Maryann Campbell's decades of service to Glenholme. The school's Development Board Co-Chair spoke of Ms. Campbell's dedication and leadership, presented her with an award of Hope! Board members shared moving comments of Ms. Campbell's inspirational effort in changing the lives of their families. In recent years, Ms. Campbell has led Glenholme through many changes and countless fund raising projects at the school, most notably the night's incredibly helpful scholarship that brings immediate assistance to those in need of special education services in a supportive school setting.