GRAMMY-nominated singer-songwriter Leona Lewis will make her honorary debut in the fourth edition of One Night for ONE DROP imagined by Cirque du Soleil on Friday, March 18 at The Smith Center for Performing Arts.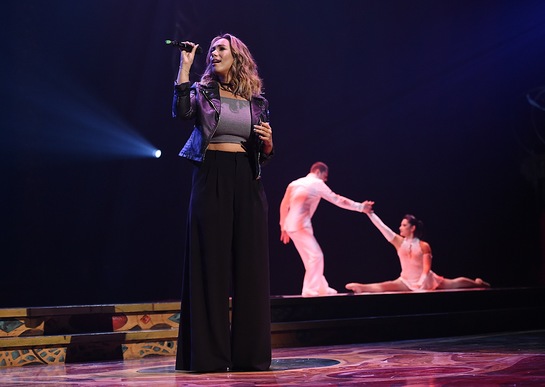 Known for her many chart-topping hits including number one song "Bleeding Love," the platinum selling recording artist will share the stage with some of the world's greatest acrobatic performers for a one-night-only performance created by Hassan El Hajjami. Presented by MGM Resorts International, One Night for ONE DROP is an annual celebration to raise funds and awareness for critical water issues worldwide.
"Access to safe water and basic sanitation is an absolute crisis for more than half the world's population," said Catherine Bachand, CEO of ONE DROP. "With Leona's evident devotion to giving back, we are excited to have her join us in our effort to provide safe and sustainable water across the globe. Her participation will make for an even more spectacular evening where we celebrate life and raise awareness and funds to solve these global water issues."
"I'm so excited to be performing in this amazing production," said Lewis. "I'm always looking for new, thrilling ways to give back to the community and can think of no other resource more precious than water. One Night for ONE DROP is going to be an unforgettable experience and I truly hope everyone joins me in making a positive impact on our world."
With her instantly recognizable mezzo-soprano voice, Lewis has earned the title of "best-selling act to emerge from The X Factor." The record-breaking artist has garnered a total of seven BRIT Award nominations and three GRAMMY nominations, with her quadruple-platinum hit "Bleeding Love" named the "best-selling digital song of 2008." Among her many accolades, Lewis is known for making history by becoming the first female solo artist from the UK to debut at #1 on the Billboard Top 200 chart in more than 20 years. I Am, her most recent album and the first to be released by Def Jam Recordings, features a special collaboration with GRAMMY Award-winning artist Diane Warren and includes stunning hit singles such as "Fire Under My Feet," "Thunder" and "I Am." Lewis has also contributed her voice to film, performing the GRAMMY and Golden Globe nominated theme song for James Cameron's Avatar. In addition to her music, Lewis is an extremely passionate humanitarian and animal rights activist whose "I Am Empowered" social campaign has become known worldwide.
All proceeds will benefit ONE DROP's global initiatives, along with innovative educational programming in Nevada through a partnership with the Las Vegas Springs Preserve. Individual, tax-deductible VIP tickets, which include the post-show extravaganza and after-party, are available for $3,000, with show-only tickets starting at $100. Sponsorship packages and individual tickets are available at www.onedrop.org/onenight or by calling 1.844.33.WATER. In addition to the show, packages will include pre-and-post-show parties complete with live performances, breathtaking attractions, Cirque du Soleil artists, delectable hors d'oeuvres, celebratory cocktails and more.