NBA All-Star MVP and Oklahoma City Thunder Guard, Russell Westbrook hosted the 6th Annual Why Not? Bowl.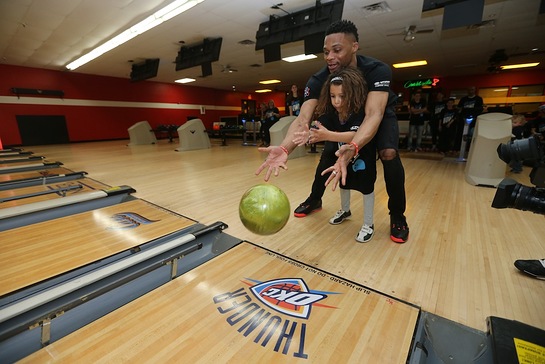 Proceeds of the event benefitted the Russell Westbrook Why Not? Foundation dedicated to helping the community and at-risk youth. This event celebrated the foundation's accomplishments within the past year including the launch of multiple Russell's Reading Rooms, the incorporation of book fairs, a holiday party for homeless children at City Rescue Mission and free Thanksgiving dinner provided to underprivileged families in Oklahoma City and Los Angeles.
"My foundation has grown so much in the last few years and we are working really hard to promote literacy in children and give them access to books," said Russell Westbrook. "To see so many people come together and support what we are doing is truly amazing. This is a great event and I am so proud to have it grow every year."
Partnering with Scholastic, the Why Not? Foundation launched three Russell's Reading Rooms at schools in Westbrook's hometown of Los Angeles and three Russell's Reading Rooms at schools in the OKC community within the last year. Each reading room is stocked with a total of 1,200 books for reading levels K-5, stereo CD listening stations, and audio libraries with fluency CDs. The Why Not? Foundation also launched a book fair initiative, and at each school where a Russell's Reading Room is opened, a book fair is held where every child is given a certificate to take home a free book in order to encourage children to start their own home libraries.
The Russell Westbrook Why Not? Foundation is dedicated to support the community through education and family service programs while encouraging youth to believe in themselves. The event was presented by Edmond Hyundai and sponsored Mountain Dew, Hatton Enterprises, Jordan, Keshav Sani, the Kraushaar Family, Rolen Miller, Sherri Waters, True Religion and the Wasserman Foundation. Oklahoma influencers attended such as Westbrook's Oklahoma City Thunder teammates Kevin Durant and Serge Ibaka, former Oklahoma University star wide receiver Sterling Shepard and supporters from across the world.
The event was held at AMF Boulevard Lanes, 3501 South Blvd, Edmond, Oklahoma and featured open bowling, contests, and raffles with donations from Spiritual Gangster, Bushman Beard Club, 808 Audio, Forto Beverages, ERG, Planet Sox, Rituals, Hello Teeth Whitening, and WTRMLNWTR.