More than 7,000 women from around the world took to New York's Central Park on Sunday, April 17, to participate in the 13th Annual MORE/SHAPE Women's Half-Marathon.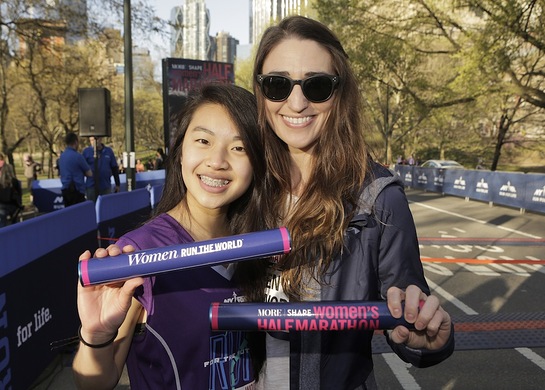 The race, presented by SHAPE magazine in partnership with the New York Road Runners (NYRR), is one of the largest women's-only half-marathons in the country.
"It's always inspiring to see so many beautiful and strong women pounding the pavement in Central Park," says SHAPE Editor-in-Chief Elizabeth Goodman Artis. "We're thrilled to be a part of this empowering event."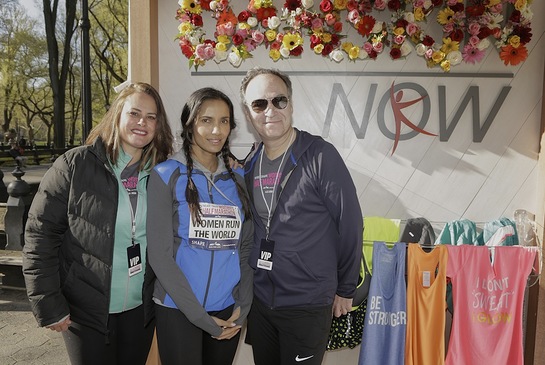 To celebrate the 13th anniversary of the 13.1-mile race, the MORE/SHAPE Women's Half-Marathon hosted its first-ever Women Run the World Relay & Mentorship Program. The relay honored 13 notable female leaders across multiple industries, while also highlighting the importance of supporting inspiring and empowering the next generation of women.
Each of the 13 honorees was paired with a mentee from NYRR's Run for the Future program, which trains New York City high school girls to run their first 5K race, build and strengthen self-confidence, and earn money toward college.
Each pair ran or walked a one-mile leg of the course as part of a relay team.
The honorees included:
• Sara Bareilles, singer, songwriter and composer of the new Broadway musical Waitress
• Lisa Borders, President of the WNBA
• Danielle Brooks, actress and star of Orange is the New Black and The Color Purple on Broadway
• Jaclyn Emerick, Fitness Director of SHAPE magazine
• Holly Frew, Emergency Communications Manager for CARE
• Elizabeth Gore, Entrepreneur-in-Residence at Dell
• Lori Griffith, Vice President of Special Events and Public Relations for Bloomingdale's
• Stephanie Laing, Emmy award-winning writer and director, and co-founder of PYPO, a new digital platform supporting female voices in comedy
• Padma Lakshmi, Host of Bravo's Top Chef, author of the new memoir Love, Loss, and What We Ate, and co-founder of The Endometriosis Foundation of America
• Kim Martin, Chief Strategy Officer of Meredith Corporation
• Jennifer Storms, Chief Marketing Officer of NBC Sports Group
• Zoe Timms, Executive Director of the nonprofit Women's Education Project
• Ronnie Tucker, Vice President of Marketing and Digital for New York Road Runners
"I loved being a part of an all-female race," says Bareilles. "There were cheers from not only the sidelines, but from runners themselves, encouraging each other along the way, and I thought that was really special. It was an inspired morning."
Natalie Morales, TODAY show News Anchor and Third-Hour Co-Host; Erica Hill, NBC News' Anchor and Correspondent; and Carolyn Manno, NBC Olympics Host, hosted the race. Morales, Hill and Manno completed the race in an impressive 1:36:43, 2:11:46 and 2:07:25, respectively. Morales and Hill returned for the second year, after hosting the 2015 MORE/SHAPE Women's Half-Marathon and completing the race in 1:38:59 and 2:06:52, respectively.
Morales, Hill and Manno kicked off the event early on Sunday morning, cheering on the runners ahead of the race start.
"The MORE/SHAPE Women's Half-Marathon is such a great event," says Morales. "It's thousands of women cheering each other on and pushing each other to cross the finish line and succeed. That positive energy makes this the best race."
World masters half-marathon record-holder and the event's three-time defending champion Deena Kastor ran for fun in the middle of the pack, finishing — with a smile and to loud cheers — in 1:48:59.
The race winner, Caroline LeFrak of the New York Athletic Club, crossed the finish line in 1:16:28; her NYAC teammate Allie Kieffer was the runner-up in 1:17:07.
Race sponsors included Danskin Now, Lane Bryant, Maui Jim and Natalie's Orchid Island Juice Co. CARE, a leading humanitarian organization that empowers women and girls around the globe, served as the Charity Partner; Bloomingdale's served as the Retail Partner; and NBC's TODAY and NBC Olympics served as the Media Partners of the 2016 event.
For race details and additional information, click here.