Housing Works honored the work of Actor, Producer and Activist Zachary Quinto, famed interior designer, Jamie Drake and activist Mary Fisher at their annual Groundbreaker Awards Dinner last week at Metropolitan Pavilion.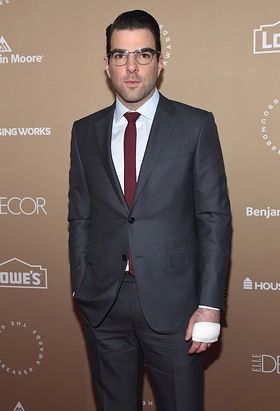 The annual event, hosted by HGTV host Genevieve Gorder, benefits Housing Works' efforts to provide supportive services and housing to New Yorkers living with and affected by HIV/AIDS and homelessness.
Barbara Bush kicked off the award presentations honoring Mary Fisher for her work supporting those living with HIV/AIDS. While fight back tears, Bush praised Fisher for using her voice to speak out about contracting HIV and her life living with the disease. Fisher has written several books on the subject and has used her artwork and design collaborations to raise money for fighting AIDS.
"I think of Housing Works as a living testimony of truth," Fisher said with conviction in her acceptance speech. "They are helping people living with HIV/AIDS who are not the needy and the despised. They are the courageous who have not given up or give in. They are role models for survival."
ELLE DECOR editor-in-chief Michael Boodro presented the ELLE DECOR Heart of Design Award to Jamie Drake. In his acceptance speech, Drake reflected on why he got involved with Housing Works.
"I know that my initial commitment to helping those with HIV came with the loss of some of my dearest friends in the 1980s and 1990s – Kevin, Keith, Len, Larry, Robert – I could go on and on. I so very often think of you all in silently saying your names in the conversations we have together in my mind. Tonight I say them out loud. And in accepting this Award, I honor them and thank them in helping me to help others," Drake said.
Zachary Quinto addressed the room after being introduced by Genevieve Gorder to discuss his decision to come out as an openly gay man in 2011 in direct response to a large number of nationwide suicides in the LGBT community, particularly of 14-year-old Jamie Rodemeyer.
"I didn't consult any of my representatives or advisors or friends or family. I didn't worry or care if the move would diminish career opportunities or negatively impact how I was perceived in the entertainment industry," Quinto said. "I simply stood up. I was a witness in my truth. And while I couldn't help Jamie, or any of his fallen comrades, I was set free in a way that could potentially benefit thousands of other LBGT youths still struggling to find a purpose and place in an often cruelly and unsupportive circumstances."
All three honorees accepted their Awards to standing ovations from the room of more than 350 guests.
Support for the Groundbreaker Awards is provided by ELLE DECOR, Chateau D'Esclans, Double Cross Vodka, Whispering Angel, Playmates Toys and DRAKE/ANDERSON.
Housing Works is a New York-based organization that provides supportive services and stable housing to the homeless and individuals living with and affected by HIV/AIDS. The non-profit works with advocacy offices across the country and abroad to fight for funding and legislation to ensure all people living with HIV/AIDS have access to quality housing, healthcare, prevention information and other life-sustaining services.