Amarillo area kids can now create their own dreams, as big as Texas, on a new DreamCourt basketball court.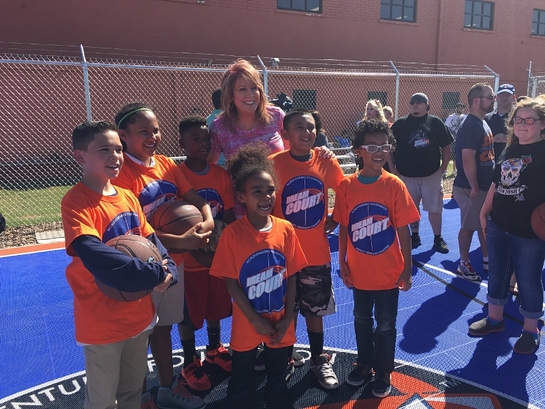 Nancy Lieberman Charities Founder, Basketball Hall-of-Famer, two-time Olympian and NBA Sacramento Kings Assistant Coach Nancy Lieberman, WorldVentures Foundation and Texas Sport Court opened a DreamCourt at the Boys & Girls Clubs Amarillo and Canyon — known as the "Maverick" club — at 1923 S. Lincoln Street, Amarillo on Monday, Apr. 25.
DreamCourts are top-quality, multipurpose play spaces built in collaboration with WorldVentures Foundation, Nancy Lieberman Charities and Sport Court, with the goal of providing children in underprivileged communities a safe area to play basketball, interact socially, and learn important lessons about teamwork and good sportsmanship. The Maverick club DreamCourt is the 24th court installed to date in Boys & Girls Clubs and community parks across the country.
Nancy shared her sentiments during the dedication ceremony, saying, "I started my career here in Amarillo when we won the Women's National Invitational Tournament in 1978. The culture of winning, of realizing dreams, happened right here." She spoke to the kids directly as she continued, "I've never done anything worthwhile by myself. It's always been with a team. This court will make you better teammates, better friends, and better people."
Nancy Lieberman, a member of the Naismith Memorial Basketball Hall of Fame, made history this past summer when she was hired by the Sacramento Kings, becoming just the second female assistant coach in NBA history. She officially opened the court with her signature half-court backwards shot accompanied by members of the WorldVentures Foundation and WorldVentures Marketing, LLC Independent Representatives, including Ryan Hollingsworth, who led the fundraising efforts in the Amarillo community. Others in attendance were Amarillo Mayor Paul Harpole, Board President Boys & Girls Clubs Amarillo and Canyon Brice Sheets and Texas Sport Court representatives.
Mayor Harpole opened the dedication ceremony by saying, "Over 1,000 kids a week will be playing on this court. And some of you kids will be standing up here one day as a Mayor, a Governor, or even our President!"
Over 200 members of the Maverick club participated in the festivities, and expressed their appreciation of Ms. Lieberman. One member, Malachi, said, "She took time out of her own personal schedule to do something great with us. It's a beautiful court. And I believe what she said that I can be anything I want to be."
Later at an appreciation reception for the volunteers of the fundraising efforts, Boys & Girls Clubs Amarillo & Canyon President Kimber Daniel thanked the group, saying, "We are now able to serve an additional 75 kids this summer because of this DreamCourt."