The National Alliance on Mental Illness of New York City, Inc. (NAMI-NYC Metro) celebrated their 10th Annual NAMIWalks NYC on May 7th.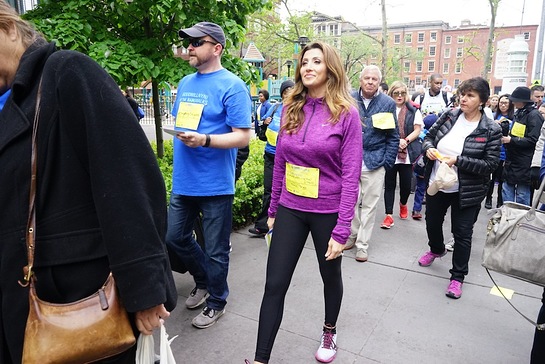 The event took place at the South Street Seaport Promenade, and featured the Walk and a wellness fair. Mental Health Advocate Jacyln Stapp, kicked off the Walk with special remarks and encouragement about dealing with mental illness within her own family.
"With a generous match of $30,000 from the Pershing Square Foundation and our devoted teams and walkers, I'm happy to report that we are on track to raise $550,000 from NAMIWalks NYC this year," said Wendy Brennan, NAMI-NYC Metro Executive Director. "Celebrating our tenth year and with the encouraging words by our special guests sharing their own personal stories with mental illness, it was a great day in the fight against stigma towards mental illness."
New York's largest mental health event, which started with just 1,000 walkers in 2006, hosted more than 5,000 people who traveled over the Brooklyn Bridge and back to the Seaport Promenade and ended the day with a wellness fair which included activities such as free massages, basic health screenings, give-a-ways, and more. Special stations were set up where attendees could make a pledge to listen to those around them who are effected by mental illness and post #IWILLLISTEN to their social networks. CBS New York served as the community partner for the 10th Annual NAMIWalks.
NAMIWalks NYC celebrates recovery from mental illness and helped raise funds to combat stigma and promote awareness. Funds raised from NAMIWalks NYC will allow NAMI-NYC Metro to provide no-cost support and education to thousands of New Yorkers next year including four signature, multi-week education courses, bi-monthly public education events with leading experts, and more than 20 support groups for people living with mental health and for families and friends caring for an impacted loved one.