Austin native and New Orleans Saints Quarterback Drew Brees returned home to host his second annual Brees Topgolf Challenge on June 12.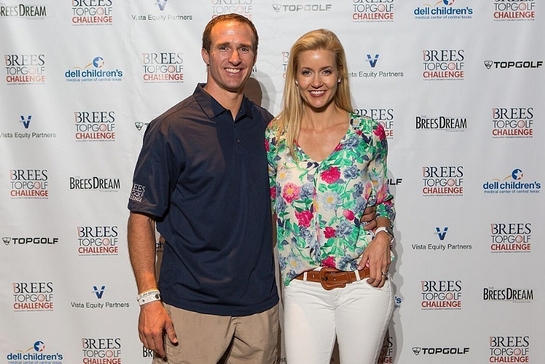 The charity golf event benefited Dell Children's Medical Center in support of pediatric and adolescent health care in Central Texas.
Sponsored by The Brees Dream Foundation and Topgolf®, the global leader in golf entertainment, funds raised went towards improving the CARE (Child Abuse Resource and Education) Team program.
"We successfully raised and contributed $250,000 to support the CARE Program at Dell Children's from our first Topgolf Challenge last year, and hope to exceed that amount this weekend," Brees said. "We're excited to get out there and have a great time playing some Topgolf, throwing some footballs, and reconnecting with the Austin community with a focus on continuing to expand and enhance the programs the CARE Team at Dell Children's provides its young patients and their families."
Brees Topgolf Challenge participants competed in six-person teams, scoring points by hitting Topgolf's microchipped golf balls toward 11 targets that range up to 215 yards away. Points are allocated based on distance and accuracy of each shot. The four teams with the highest scores then sent one player to compete against Drew and his wife, Brittany, in a Topgolf shootout.
"We're glad to have Drew and Brittany back at Topgolf Austin for another successful Topgolf Challenge. It's a great event, but more importantly, it's a way for us to help kids and families here in Central Texas," said Hunter Farris, director of operations at Topgolf Austin. "Our Topgolf family makes it a priority to give back to our community, and we're proud to host The Brees Dream Foundation and support this cause."
Additional competitions during the afternoon's event included a Quarterback Challenge football toss, a "Drive against Drew" competition to take on Drew for a one-ball driving contest, and a "Go Against the Topgolf Pros" challenge against the venue's onsite professional instructors.
Find out more at www.breestopgolfchallenge.com.