Soleil Moon Frye, actress and mother, joins premium chocolatier Lindt USA to help launch the seventh Lindt GOLD BUNNY Celebrity Auction benefitting Autism Speaks, the world's leading autism science and advocacy organization.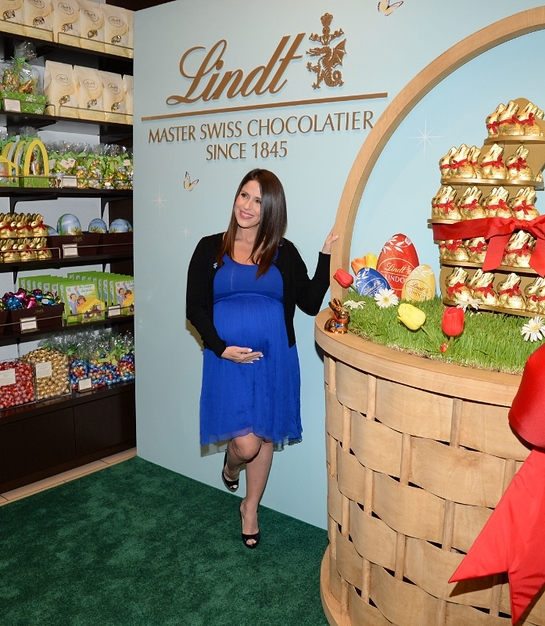 Since 2009, Lindt has raised funds and awareness for the cause during the Easter season through a give back with purchases of its iconic Lindt GOLD BUNNY, and the Lindt GOLD BUNNY Celebrity Auction. Frye is one of 50 celebrities in the entertainment, sports, food and music industries – from Julia Louis Dreyfus, Neil Patrick Harris, Sarah Jessica Parker, and Russell Wilson – are participating in this year's auction by autographing porcelain figures of Lindt GOLD BUNNY, with 100 percent of proceeds donated directly to Autism Speaks.
"Easter has always been a special time of year for my family, and now it's even more special as I join Lindt to help kick-off the Lindt GOLD BUNNY Celebrity Auction," says Frye. "As a mom, I'm truly honored to work with Lindt to make a difference in the lives of families affected by autism. Whether bidding on celebrity autographs or putting a delicious Lindt GOLD BUNNY in your Easter basket, it's easy to get involved and give back this season."

This year, 50 actors, award-winning musicians, acclaimed athletes and celebrity chefs have donated their signature to the Lindt GOLD BUNNY Celebrity Auction, personally signing porcelain versions of the iconic Lindt GOLD BUNNY. The autographed bunnies are now available on LindtGOLDBUNNYAuction.com, where fans can bid on the figures until March 20, 2016.
Among the stars who have taken part this year are:
• Al Roker
• Allison Janney
• Allison Williams
• Andrew Zimmern
• Andy Grammer
• Blake Shelton
• Carson Daly
• Celine Dion
• Christina Milian
• CJ Ramone
• Connie Britton
• David Ortiz
• Drew Brees
• Ed Asner
• Eva Longoria
• Haylie Duff
• Hoda Kotb
• Ina Garten
• Jane Lynch
• Jennie Garth
• Jennifer Nettles
• Joe Mantegna
• Julia Louis Dreyfus
• Julie Bowen
• Karina Smirnoff
• Kathie Lee Gifford
• Kristen Wiig
• Kristin Chenoweth
• Kylie Jenner
• Marc-André Fleury
• Matt Lauer
• Mayim Bialik
• Michael Symon
• Natalie Morales
• Neil Patrick Harris
• Nick Lachey
• Nikki Reed
• Rachel Bloom
• Rachel Platten
• Rob Lowe
• Roger Federer
• Russell Wilson
• Sarah Jessica Parker
• Savannah Guthrie
• Scott Foley
• Soleil Moon Frye
• Susan Sarandon
• Terrence Jenkins
• Tom Bergeron
• Willie Geist

In addition to the money raised through the Lindt
GOLD
BUNNY
Celebrity Auction, Lindt is donating 10 cents to Autism Speaks for every Lindt
GOLD
BUNNY
Milk Chocolate 3.5 oz purchased now through Easter on March 27, 2016, at retailers nationwide, Lindt Chocolate Shops and www.LindtUSA.com, up to $100,000. Since the start of the partnership, Lindt has generated more than $800,000 for Autism Speaks with help from Lindt
GOLD
BUNNY
, the best-selling chocolate bunny in the U.S. Contributions from Lindt have led Autism Speaks to help individuals with autism and their families in a variety of ways, including global biomedical research into the causes, prevention and treatments for autism, educational toolkits for newly diagnosed families, grants for community programs, and scholarship funding to educational institutions.
"We are proud to raise awareness for Autism Speaks and help those affected by autism," says Thomas Linemayr, president and CEO of Lindt USA. "Lindt is grateful for the support of our customers and participation from the celebrity community, and we look forward to generating much needed funds for this important cause."