On Thursday, October 6, 2016 Brooklyn Bridge Park Conservancy (Conservancy) held its fourth annual Brooklyn Black Tie Ball and After Party.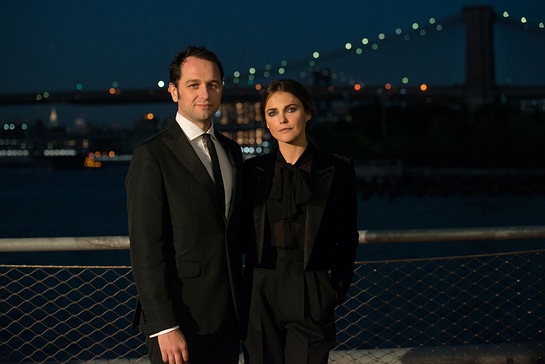 The sold out event hosted over 800 guests and raised $1.1 million, a new record for the Conservancy. In 2015, the event raised $1 million.
Party guests included comedian and emcee of the event Wyatt Cenac, star of Vogue's latest feature documentary The First Monday in May, Sylvana Durrett, Deputy Mayor for Housing and Economic Development Alicia Glen, Co-Founder of fashion consultancy La Marque and fashion line La Ligne Meredith Melling, The Americans' Matthew Rhys and Keri Russell, Founder and CEO of Rag & Bone Marcus Wainwright, Executive Director of the Brooklyn Bridge Park Conservancy Nancy Webster and model and editor at Refinery29 Elettra Weidemann among others.
The event took place on Pier 2 of the Park and included a cocktail reception on the promenade and a seated three–course meal. Guests enjoyed the magnificent Manhattan skyline and sweeping views of New York Harbor, which served as the backdrop for an evening celebration of one of New York City's most spectacular waterfront parks. After the Ball, the Conservancy Currents, the Conservancy's young professionals group, hosted a ticketed after party where guests participated in a high-energy gathering. It included an open bar, snacks and dancing under the stars with DJ Herbert Holler from the Freedom Party.
Fulfilling the Conservancy's vision for turning a neglected strip of waterfront into a verdant public space over 30 years ago, Brooklyn Bridge Park has provided New York City with an extraordinary place to play, learn, connect, and be inspired.
Proceeds from the Brooklyn Black Tie Ball will help keep the Park vibrant, beautiful, and growing; directly supporting the Conservancy's over 500 free and low cost activities and events. Over one million Brooklyn Bridge Park visitors have enjoyed the Conservancy's education, cultural, fitness, recreation, and arts programs. In 2016 alone, more than 170,000 individuals enjoyed Conservancy events including kayaking, waterfront workouts, and environmental education classes, as part of its extensive lineup.

At this year's Ball, the Conservancy honored noted humanitarian and business executive, Barry S. Sternlicht, Chairman and CEO of Starwood Capital Group and the founder of SH Group and 1 Hotels. With a commitment to changing the standard for socially responsible hospitality, Mr. Sternlicht will debut 1 Hotel Brooklyn Bridge early next year. The Conservancy celebrated Barry S. Sternlicht's personal and professional commitment to sustainability, environmental responsibility, and design excellence and honors his leadership in the philanthropic and civic life of New York City.
The Conservancy also paid tribute to Regina Myer, the outgoing President of Brooklyn Bridge Park for her years of service and vision that helped to establish the Park as a world renowned destination. Under her leadership, the 85 acres were transformed from an inaccessible waterfront into a world-class park that now receives over 4 million visitors annually.
"The annual Brooklyn Black Tie Ball has become a hallmark event for the Conservancy." said Nancy Webster, Executive Director of the Brooklyn Bridge Park Conservancy. "We were elated to honor Barry Sternlicht and his philanthropic generosity and commitment to sustainability. His support will help ensure Brooklyn Bridge Park remains a world class waterfront public space filled with first-rate programming that all ages can enjoy. Additionally, we were delighted to pay tribute to Regina Myer's transformative vision in bringing the Park to life and we wish her great success in her next endeavor."

"The Brooklyn Black Tie Ball has become a wonderful autumn tradition at the Park and a great way to support the Conservancy's programs that make BBP such a special place," said Regina Myer, outgoing President of Brooklyn Bridge Park. "We congratulate honoree Barry S. Sternlicht, whose 1 Hotel Brooklyn Bridge is going to be a great addition to the Park and to the neighborhood, and are grateful to everyone for their commitment to Brooklyn Bridge Park and the Conservancy."