On Thursday, October 4, 2019 the Brooklyn Bridge Park Conservancy held its "Brooklyn Black Tie Ball" on Pier 2 of the famed waterfront park.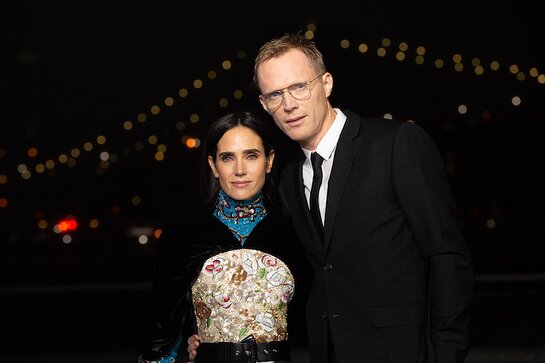 Over 700 guests attended the event and helped raise $1.32 million to support the park's public programming.
Party guests included: Award-winning English-American actor Paul Bettany (Avengers, Solo: A Star Wars Story, A Beautiful Mind); ); Head of NY Practice, Tusk Ventures and Chairman of the Board for Brooklyn Bridge Park Conservancy Chris Coffey, Academy Award-winning actress Jennifer Connelly (A Beautiful Mind, Hulk, Blood Diamond); New York City Mayor Bill De Blasio; star of Vogue's feature documentary The First Monday in May and Co-Founder/CEO of Maisonette Sylvana Durrett; Honoree, Co-Founder, and Chief Executive Officer of L&L Mag MaryAnne Gilmartin; Honoree and former Deputy Mayor of Housing and Economic Development Alicia Glen; Host of NBC's Today Show and daughter of former president George W. Bush, Jenna Bush Hager; Actress and star of HBO series Girls Jemima Kirke; President of Brooklyn Bridge Park Corporation Eric Landau; Emmy nominated and Golden Globe winning, Broadway actress Keri Russell (The Americans, Burn This); New York State Senator Chuck Schumer; Founder of fashion label Rag & Bone Marcus Wainwright; and Executive Director of the Brooklyn Bridge Park Conservancy Nancy Webster.
Fulfilling the Conservancy's vision for turning a neglected strip of waterfront into a verdant public space over 30 years ago, Brooklyn Bridge Park has provided New York City with an extraordinary place to play, learn, connect, and be inspired. The Conservancy works in partnership with Brooklyn Bridge Park Corporation to produce the Park's cultural, educational, and recreational events. This season marks the 20th Anniversary of the Conservancy's free, public programming in the Park. In the summer of 2000, the Conservancy launched its now signature Movies with a View series with the goal of raising public awareness of what it believed would be a vibrant public space on the water. 20 years later, as the park nears completion, Brooklyn Bridge Park and the Conservancy have become key players in the cultural, recreational, and educational life of New York City. Each season, the Conservancy offers over 500 free and low-cost events.
This year, the Conservancy honored two dynamic women whose visionary leadership has transformed the civic landscape of Brooklyn Bridge Park and New York City.
The Conservancy honored MaryAnne Gilmartin, one of New York City's most prominent developers who served as CEO of Forest City Ratner for many years. During her time at Forest City Ratner, MaryAnne oversaw the Pacific Park Brooklyn development and project, including Barclays Center. She also led the development of The New York Times Building and New York by Gehry, the residential skyscraper in lower Manhattan. In 2018, MaryAnne co-founded L&L MAG, a new ground-up real estate development company that is currently developing a rental project in Chelsea and a mixed-use site in Long Island City.
The Conservancy also honored Alicia Glen, New York City's Former Deputy Mayor for Housing and Economic Development. Glen has been a key player in New York City government since 2014 and was responsible for implementing Mayor de Blasio's affordable housing plan, growing and diversifying the City's economy, launching NYC Ferry and Women.NYC, a unique platform designed to empower women to succeed in the workforce. As former Chair of the Board of Directors at the Brooklyn Bridge Park Corporation, Glen also has been an instrumental leader in building the Park. She is currently the Chair of the Trust for Governors Island.
Proceeds from the Brooklyn Black Tie Ball will help keep the Park vibrant, beautiful, and growing; directly supporting the Conservancy's over 500 free and low-cost activities and events. Over 1.7 million Brooklyn Bridge Park visitors have enjoyed the Conservancy's education, cultural, fitness, recreation, and arts programs. In 2019 alone, more than 130,000 individuals enjoyed Conservancy events including kayaking, waterfront workouts, and environmental education classes as part of its extensive lineup.