What will Pee-wee Herman be handing out to trick-or-treaters this Halloween? "Root Beer Barrels! Root Beer Barrels! They're vegan!" proclaims the actor in his timely new ad for PETA.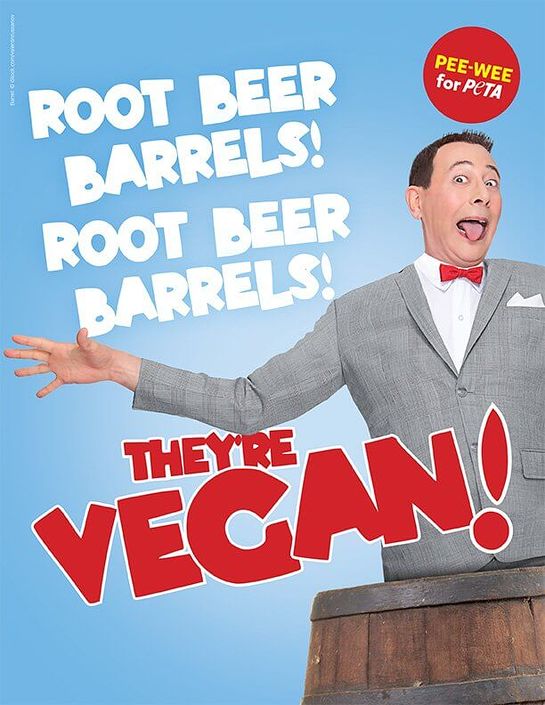 The star, whose love of the classic hard candies is well documented, encourages shoppers to load up their baskets with only vegan sweets this holiday and to avoid those with frightful animal-derived ingredients.
Says the comedian: "Boo! Pee-wee Herman here, reminding you that the most delicious Halloween candy is vegan. Root Beer Barrels are my favorite, but for all you little witches, ghouls, and hungry characters out there, Smarties, Swedish Fish, and Airheads are great choices, too—and that's enough to make your teeth rot right out of your head! Eat smart, eat with heart: Choose vegan candy!"
Every day is a horror story for animals used for food, and some candies contain gelatin made from animal bones, red food coloring called carmine made from ground-up bugs, or milk—which contains pus from cows whose udders get bacterial infections on factory farms and whose babies are torn away from them. Fortunately, PETA — whose motto reads, in part, that "animals are not ours to eat" — has compiled a list of vegan candies, including the following:
• Airheads
• Atomic Fireballs
• Blow Pops
• Chick-O-Sticks
• Dots
• Goldenberg's Peanut Chews
• Hot Tamales
• Jolly Ranchers
• Lemonheads
• Mamba Fruit Chews
• Mike and Ike
• Runts
• Skittles
• Smarties
• Sour Patch Kids
• Swedish Fish
• SweeTARTS
• Twizzlers
Paul Reubens, aka "Pee-wee Herman," joins a growing list of celebrities — including Wendi McLendon-Covey, Fred Willard, Jane Lynch, Steve-O, Marc Maron, David Cross, and many others — who have teamed up with PETA.