Family Reach Foundation held its annual Cooking Live! from New York fundraiser this week, benefiting children and families with cancer who can't pay their everyday bills due to the high costs of treatment.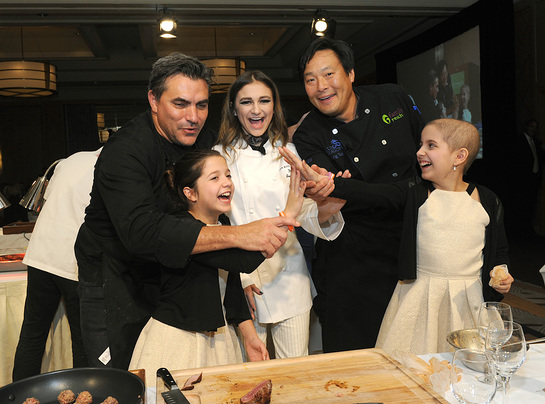 A foodie favorite, Cooking Live! from New York was hosted by celebrity chef and TV personality Ming Tsai, who brought his friends – some of the best chefs in the world – together to deliver a culinary experience like no other. It was like sitting at the chef's table at the finest restaurants, watching a five-course meal cooked live in the center of the room.
Singer Daya and special guests Olivia and Sabrina Lorusso were joined by chef Todd English's Sous-Chefs, and iconic broadcaster Bryant Gumbel, a cancer survivor himself, helped chef Ming Tsai prepare his appetizer: Caramelized Shallot Poached Norwegian Salmon with Cauliflower Fried 'Rice' and Thai Basil Puree served with Patron Ginger-Yuzu Rita.
WHO: Daya – Singer/songwriter
Bryant Gumbel – Real Sports, The Today Show
Chef Ming Tsai – Blue Ginger, Blue Dragon; host, Simply Ming
Chef Masaharu Morimoto – Morimoto; star, Iron Chef
Chef Todd English – Olives, Todd English Food Hall, Figs, P.U.B., Blue Zoo
Chef Shaun Hergatt – Michelin Star Chef
Chefs Alan Dancyger & Philip Medora – The Ritz-Carlton New York, Battery Park
Recently recognized by VP Joe Biden's Cancer Moonshot, Family Reach is a financial lifeline to families fighting cancer. Out-of-pocket costs for cancer average $38,000 annually, leaving many families unable to afford basic living expenses like rent, heat, or groceries. This financial toxicity directly impacts survival rates and access to care. Family Reach offers direct financial assistance, navigation, and education to keep families afloat while a child or parent is in treatment. For more information, visit www.familyreach.org.