NBA All-Star and Oklahoma City Thunder point guard, Russell Westbrook, hosted a Thanksgiving Dinner on Tuesday, November 15, 2016, to give back to the less fortunate in the Oklahoma community that has given him so much.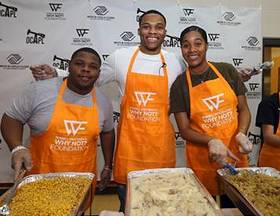 This is the 5th Annual Thanksgiving Dinner the Russell Westbrook Why Not? Foundation has hosted with the Boys & Girls Club of Oklahoma County and the third year Russell has co-hosted with the Oklahoma City Association of Professional Landmen. With the help of his co-host and local caterer Ron Deak of Adventures in Catering, this year's dinner was able to serve over 950 to members of the local Boys & Girls Club.
As an alumnus of the Challengers Boys & Girls Club in South Central Los Angeles, Russell has made giving back to the organization that helped him during his youth a cornerstone of his charitable initiatives. As an extension of the Russell Westbrook Why Not? Foundation, Russell's family will host the 5th Annual Los Angeles Thanksgiving Dinner at his childhood hangout, Jesse Owens Park, on Monday November 21st, 2016.