Arsenal legend Ray Parlour officially opened one of three new football pitches in one of the most disadvantaged slum communities in North Jakarta, Indonesia last month, as part of a new Save the Children football programme, funded through The Arsenal Foundation.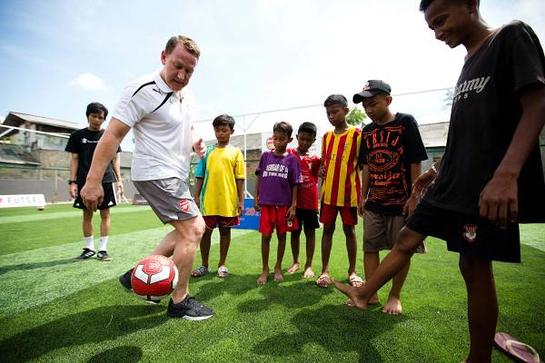 The project, which was funded by Arsenal's end of season fundraiser, uses football as a vehicle to empower children to fight for their rights and help them escape tragic circumstances.
Ray visited the programme in North Jakarta which is giving vulnerable children a safe space to play, helping to build their confidence and encourage teamwork.
As part of his visit to the pitch, Ray played football with the children and joined training sessions run by Arsenal Soccer School coach Drew Tyler.
Speaking about his visit, Ray said:
"Football has been such a huge part of my life and given me so many opportunities. Seeing football used like this to make a difference to children's lives is amazing.
"I met a young boy called Dhani who lives on a bench at the edge of a rubbish dump. He had to drop out of school to work and support his family. Seeing how he lives and hearing his story has been an eye opener. He faces so many daily struggles but football is giving him back a bit of his childhood and putting a smile on his face. I'm proud Arsenal and Save the Children are getting involved here. We're using the Arsenal name and our resources to give children a better future. It's brilliant."
Fajar Jasmin, from Save the Children in Indonesia, said:
"North Jakarta is home to more than 1.6 million people and has a high concentration of urban slums. Many children from this region live in extreme poverty and face social exclusion on a daily basis. They are forced to live in unstable conditions and encounter issues such as exploitation, neglect and lack of public spaces."
Thanks to funds raised from the Arsenal Legends game, which Ray took part in, The Arsenal Foundation and Save the Children have also worked together to use the power of football and the Arsenal name to build pitches and run similar programmes for vulnerable children in Somalia and Jordan.