YWCA USA celebrated the incredible achievements of extraordinary leaders who serve as role models and provide opportunities and support for women and girls at the Women of Distinction Awards Gala on June 16th, as part of the Bold Mission Bright Future Conference.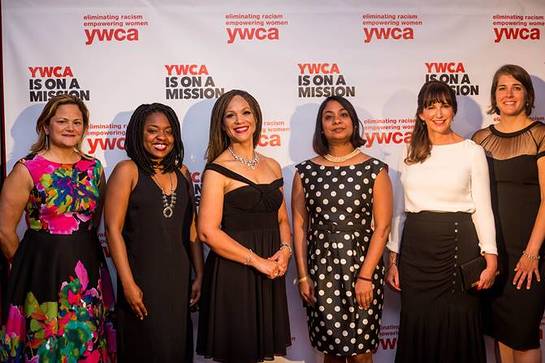 Melissa Harris Perry was the host for the gala. Ms. Perry was a recipient of the Women of Distinction Award in 2015. She is the Maya Angelou Presidential Chair at Wake Forest University. There she is the Executive Director of the Pro Humanitate Institute and founding director of the Anna Julia Cooper Center. She is the author of the award-winning Barbershops, Bibles, and BET: Everyday Talk and Black Political Thought, and Sister Citizen: Shame, Stereotypes, and Black Women in America.
"The Women of Distinction Awards honor remarkable women and organizations for their outstanding work in improving the lives of women, girls, and communities of color," said YWCA USA Interim CEO Casey Harden.
The awards recognize success in the areas of: Advocacy, Corporate Partnership, Women's Empowerment and Racial Justice. This year's honorees are the National Domestic Workers Alliance, Nordstrom, New York City Council's Young Women's Initiative and Charlene A. Carruthers.
The 2017 YWCA USA Women of Distinction Honorees are:
Advocacy: National Domestic Workers Alliance. The National Domestic Workers Alliance (NDWA) is the nation's leading voice for dignity and fairness for the millions of domestic workers in the United States, most of whom are women. The national alliance is winning improved working conditions while building a powerful movement. Recently, their efforts resulted in the governor of Illinois signing a domestic workers bill of rights. Nationally, they are calling for a comprehensive women's economic agenda to advance the lives of working women and families. Sameera Hafiz accepted the award for NDWA.
Corporate Partnership: Nordstrom. Through Nordstrom's Treasure&Bond brand, the company donates 2.5% of net sales to nonprofit organizations empowering youth. This year, Nordstrom chose YWCA as their national non-profit partner. Their donation will support YWCA's TechGYRLS program, which helps young girls learn about and develop confidence and self-efficacy in the critical areas of science, technology, engineering, arts, and math (STEAM). Jen Jackson Brown accepted the award for Nordstrom.
Women's Empowerment: New York City Council's Young Women's Initiative. This initiative is investing in the future of young women and girls in New York City. This first-of-its-kind effort is addressing systemic disparities for young women of color including healthcare, education, and equal pay for equal work. New York City Council Speaker Melissa Mark-Viverito accepted the award as one of the founders of the initiative.
This year's Dorothy I. Height Racial Justice Award recipient is Charlene A. Carruthers. This award is presented to an individual who has had a national impact in the field of racial justice in the United States. Honorees are selected based on criteria that reflect Dr. Height's contributions: service in a leadership role, commitment to racial justice and a high standard of courage, integrity and steadfastness in support of the YWCA's mission to eliminate racism and empower women.
Dorothy I. Height Racial Justice Award: Charlene A. Carruthers is the national director of the Black Youth Project 100, an activist member-led organization of Black 18 to 35-year-olds dedicated to creating justice and freedom for all Black people. Her passion for developing young leaders to build capacity within marginalized communities has led her to work on immigrant rights, economic justice and civil rights campaigns nationwide. She is deeply committed to working with young organizers seeking to create a more loving and just world.
YWCA USA also recognized YWCA Brooklyn with the Excellence Award for Women's Empowerment, YWCA Rochester with the Excellence Award for Racial Justice and YWCA Greater Atlanta with the Excellence Award for Advocacy. There are 216 YWCAs in the United States providing critically important services and support in communities large and small, urban and rural.
"The Association Excellence Awards recognize the best of the best in our community; local associations that have provided an authentic, demonstrable impact on women and girls," said Harden.
YWCA USA thanks Allstate for their sponsorship of the YWCA USA's Bold Mission Bright Future Conference.