Good Fortune, the new documentary chronicling the "rags-to-riches" story of entrepreneur and philanthropist John Paul DeJoria, affectionately known as JP, opens this week.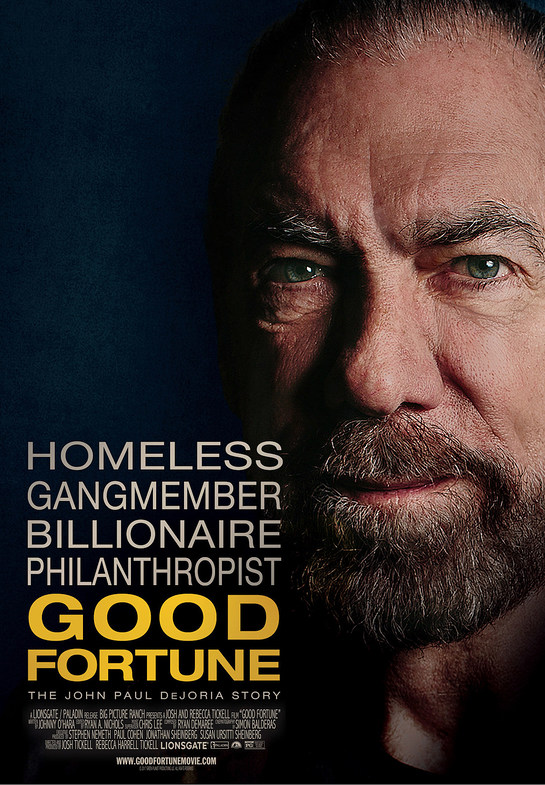 JP is best known for building not just one, but two iconic billion-dollar businesses — John Paul Mitchell Systems and Patrón Spirits — and he now adds John Paul Pet and ROK Mobile to that roster as well. His professional accomplishments include several additional global enterprises, but what's most important to him is staying true to his mantra, "Success Unshared is Failure."
DeJoria moves purposefully and energetically through life, rallying his employees, spearheading back-to-work programs for the homeless, helming a high-seas ship in the Arctic to protect whales from poachers, racing a motorcycle in a charity ride, and working indefatigably on behalf of over a hundred philanthropic ventures. His joyous and hands-on approach to everything he does inspired acclaimed documentarians Josh and Rebecca Tickell to make Good Fortune, a film about the subject's storied evolution, from a man who has been homeless, to his current status as a billionaire and the charismatic proponent of a pioneering and impactful form of philanthropy he calls "conscious capitalism."
Through a series of flashback footage and interviews with friends, fellow entrepreneurs, and business partners, including Arianna Huffington, Cheech Marin, Danny Trejo, and Michelle Phillips, Good Fortune is an uplifting, inspiring portrait full of wit, humor and substance. Narrated by Dan Aykroyd, JP's dear friend and business partner, Good Fortune follows one of the world's most celebrated business icons as he shares his ultimate secret of success: giving back.
"The film's subject is an extraordinary individual who started life with no material possessions and built a self-made fortune which has enabled him to act as one of the world's most contributive and effective leaders in philanthropy," says Aykroyd. "Sharing his good fortune and giving back, he continuously encourages others to do the same, and has created a network of positive influencers and initiators all over the planet."
JP believes that people, the planet and profit are closely intertwined, and he's on a mission to find innovative ways to share his good fortune with others. He uses resources and relationships to fund and promote causes that help the greater good. He radiates empathy, optimism, good will,and a sense that we should walk in each other's shoes. DeJoria's humility, wisdom, and captivating personality endear him to everyone he meets.
Good Fortune is distributed by Lionsgate and Paladin and produced by Big Picture Ranch. The film opens to the public in New York City on June 23rd and in Los Angeles on June 30th, with release to follow in select cities nationwide. Good Fortune is also available for pre-order on iTunes and Amazon and will be available for download on August 1st.
Visit www.goodfortunemovie.com for further information.