Blackbaud, the world's leading cloud software company powering social good, today announced that Robin Wright will join the lineup for bbcon 2017, the leading tech conference exclusively for the social good community, being held in Baltimore, October 17-19 at the Baltimore Convention Center.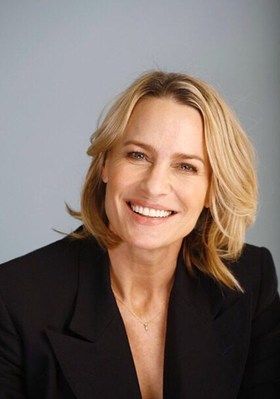 "Each year, bbcon hosts a cross-sector community of change agents to explore the latest tech innovation, big ideas and partnership opportunities that can strengthen the collective pursuit of global good," said Blackbaud senior vice president Catherine LaCour. "We are thrilled to have Robin Wright join us for bbcon 2017 because her words and actions authentically reflect a commitment to building a better world. Attendees will undoubtedly benefit from her unique perspective as a public advocate, head of a high-impact foundation, philanthropist and leader of a premier social enterprise brand."
Wright is a four-time Emmy-nominated Actress, and 2014 Golden Globe award winner for her role as first lady Claire Underwood in the highly-acclaimed Netflix original series "House of Cards." She is also known for her leading roles in various major motion pictures, including her iconic turn as Jenny Curran in "Forrest Gump" and her acclaimed role as Antiope in the blockbuster "Wonder Woman," which is currently in theaters.
Wright's activism and passion for helping women around the globe will resonate with the bbcon audience. She is known for her far-reaching philanthropic work, including the Enough Project's Raise Hope for Congo campaign that encourages various international companies to ensure the precious minerals used in their products do not come from conflict mines where women are abused. In 2014, Wright launched Pour les Femmes, a socially-conscious sleepwear company designed to give back. Founded by Wright and designer Karen Fowler, the company has one goal: to make simple, beautiful and quality pieces while creating economic opportunity for women in conflict regions around the globe. After Wright visited Congo and learned firsthand of the unimaginable struggles of many women in the area, she was compelled to create a product that would not only provide comfort for customers, but also security for women living in conflict regions. Pour les Femmes supports two nonprofits — Action Kivu and Synergies des Femmes — for their economic empowerment of women, particularly those who have experienced sexual violence.
"I'm excited and honored to participate in Blackbaud's bbcon 2017 conference — it's such an important event that brings together thousands of passionate people who have devoted their careers to driving positive change in the world," said Wright.
Each year bbcon convenes thousands of change makers, fundraisers, marketers, administrators, technologists, executives and industry thought leaders from across the social good community to share the latest insights, trends and innovation. Attendees have access to dedicated tracks for various roles and markets — from arts and cultural organizations and cause-based nonprofits to educational institutions, healthcare organizations, foundations, corporate giving and more.
For more information or to register, visit www.bbconference.com. Follow the conference news on Twitter with #bbcon or on Facebook at www.facebook.com/blackbaud.