On Friday, July 28th three-time GRAMMY-award winning artist Zac Brown, along with his wife Shelly, hosted 300 guests at a private fundraiser for their non-profit passion project Camp Southern Ground.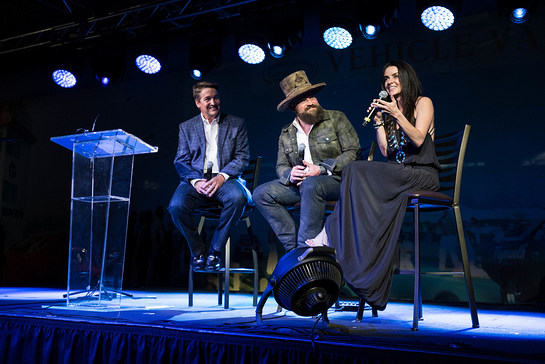 Camp Southern Ground, located on over 400 acres in Fayetteville, Georgia and will serve children ages 7-17, from all socioeconomic backgrounds, races and religions, with activities to challenge, educate and inspire campers. As an inclusive camp, Camp Southern Ground will bring together typically developing children, children with Autism Spectrum Disorders (ASD), learning and attention issues, social or emotional challenges, and those with family members serving in the military.
The event, held at the Vehicle Vault in Parker, Colorado, was a new venture for the non-profit. Bringing the mission of Camp Southern Ground, "to provide extraordinary experiences for children to recognize and magnify the unique gifts within themselves and others in order to profoundly impact the world," to a generous crowd of supporters and new-found advocates.
"It was an honor and a pleasure to not only celebrate my birthday at the Vehicle Vault, but share the mission of Camp Southern Ground with the local philanthropic community. I want to thank the Hutchison and Dilley families for welcoming us to Denver and being such gracious hosts for the evening. Camp will not just impact the children who live in Georgia, but for everyone regardless of distance. Beyond camp, we are thrilled to partner with amazing military and veteran support organizations who will deliver their programs on our campus," said Brown.
Guests of the evening experienced Camp Southern Ground through the stories shared by Zac and Shelly. Retired Marine Staff Sergeant Joey Jones, discussed Camp Southern Ground's commitment to providing support for military families, with a portion of proceeds from the evening being earmarked for children of service members based in Colorado to attend camp.
"We're thrilled by the amount of support we received in Denver, it was truly amazing to see the wonderful reactions to Camp Southern Ground. We're also excited to be able to give a portion of the proceeds raised that evening to children of military families based in Colorado so they can come and experience camp," said Mike Dobbs, President and CEO of Camp Southern Ground.
Guests included Vehicle Vault owners Erin and Daniel Dilley, Lou Hutchison, Glen and Angela Goad, State of Colorado Chief of Staff, Doug Friednash, host committee representatives; Carolyn and Craig Jackson of world famous, Barrett-Jackson Auctions, Sami and Steve Lockton, Debra and Wayne Berger, Jennifer and Adam Daurio, Ellen M. Robinson, Lisza Gulyas and Nancy Koontz.
Capping of the evening with an acoustic performance by members of the Zac Brown Band, guests left with a deeper understanding of Camp Southern Ground raising close to $1 million dollars over the course of the evening in support of the mission.