This fall, Elmo, Cookie Monster, Grover, Rosita, and other furry friends from Sesame Street will embark on a two-month USO tour to military installations throughout Europe.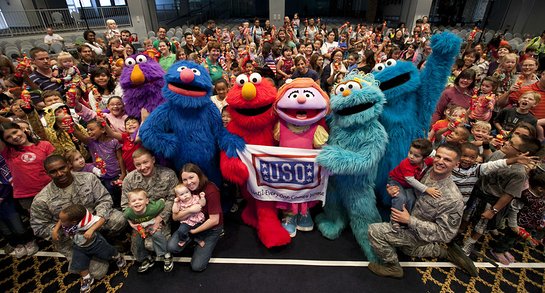 The 2017 Sesame Street/USO Experience for Military Families will perform more than 30 shows at 19 military bases in six countries; each 30-minute costumed character performance will center around the challenges military families face on a regular basis, including frequent moves and the military-to-civilian transition. The tour will kick off on September 11th at NAS Sigonella in Italy before journeying to Germany, Belgium, the Netherlands, the United Kingdom, and Spain, wrapping up in mid-November.
"Since 2006, the Sesame Street/USO tour has brought to life the resources we've developed to help military families navigate the unique challenges they face," said Dr. Jeanette Betancourt, Sesame Workshop's Senior Vice President of U.S. Social Impact. "Sesame Workshop is proud to continue our longstanding partnership with the USO, employing our early childhood expertise and beloved Sesame Street characters to support and celebrate military kids and families as they learn, heal, and grow."
Sesame Workshop and the USO know that when one family member serves, the whole family serves, which is why they partnered to create Katie, a special character who models the real-life experiences of today's military children. In the military-to-civilian transition show, "Katie's Family Transitions to Civilian Life," military families will follow Katie as she starts a new adventure outside of the military, confident that her family and all her Sesame Street pals will be there to support her throughout the transition. The tour will also perform "Katie is Moving to a New Base," which explores the feelings of uncertainty and excitement that come with moving to a new place. To best suit the needs of military families overseas, each installation will be given the chance to determine which show is performed on their base, with some installations opting for both.
"There is no better time to kick off our ninth-year run of the Sesame Street/USO tour than on Patriot Day – a day the USO is encouraging Americans everywhere to connect with service members by sending them a message of support at uso.org/Reflect," said Lorie Hennessey, USO's Senior Vice President of Entertainment. "We are incredibly grateful for our collaboration with Sesame Workshop and look forward to supporting hundreds more military families this year."
The Sesame Street/USO Experience for Military Families has toured the globe since July 2008, making it the longest-running traveling tour in the USO's 76-year history. Based on Sesame Workshop's award-winning Sesame Street for Military Families initiative, the tour has performed more than 1,100 shows on 150 military installations in 33 states and 11 countries and distributed more than 2.8 million outreach materials, entertaining nearly 600,000 service members and military families through the magic of song, dance, and beloved characters. To learn more about this year's tour, including upcoming tour stops visit uso.org/Sesame.