Just days after NBC "The Brave" stars Mike Vogel, Tate Ellington, Demetrius Grosse, Natacha Karam, Noah Mills, Sofia Pernas and Hadi Tabbal visited Kirtland Air Force Base and wrapped up their first-ever USO tour, the cast members are urging fans to join them and the USO in becoming a Force Behind the Forces by sending a message of support to our nation's service men and women today at USO.org/Messages.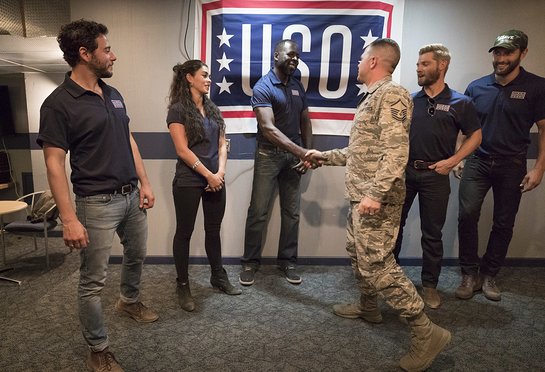 "I come from a military family… Throughout my adult life, I've been very involved. I worked with the VA for a year, started a charity to help veterans that come back from Iraq and Afghanistan with PTSD, all kinds of different stuff," said Mike Vogel. "For me, this is kind of a dream job, to be able to continue to hopefully honor and tell the story of sacrifice and service that you all live on a daily basis."

"A lot of what I believed has only been reinforced," added Natacha Karam. "The amount of sacrifice it takes, the commitment, dedication to the corps. The thing that opened my eyes was that I didn't realize that groups like this existed. The stories that don't make the news, the faces that don't get to be seen as heroes on TV, I think it's amazing that we get to shed light on this."
Force Behind the Forces is the USO's brand awareness campaign, that encourages the American public to demonstrate their appreciation for and support of those who selflessly serve our nation.
Earlier this month, the cast members did just that… having spent the day learning about military operations, extending their heartfelt gratitude and even treating airmen to an advance USO screening of their new drama. The morale boosting visit is just one example of how the USO strengthens service members by keeping them connected to family, home and country throughout their service to the nation.
The USO tour kicked off with a visit to the 351st Battlefield Airman Training Squadron – Kirtland Air Force Bases' new squadron which houses the US Air Force Pararescue and Combat Rescue Officer School that aid airmen for the battlefield – and a private USO meet & greet. A short time later, the cast joined airmen and their families for an advance screening of NBC's "The Brave" then opened the floor to a USO Q&A, where each star expressed their heartfelt appreciation to America's armed forces and their families and took time out to personally greet them.