In celebration of the International Day of the Girl, Glamour yesterday hosted a high-energy, interactive morning full of compelling talks and performances designed to address the social, cultural, and political issues that young girls face every day in school.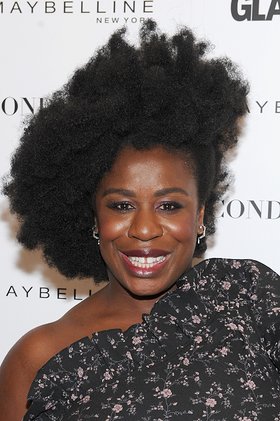 Hosted by Emmy Award–winning actress Uzo Aduba ("Orange Is the New Black"), the event brought together 300 16- and 17-year-old girls from public schools in New York and New Jersey to rally for their future. The event was presented by Maybelline New York and the Caterpillar Foundation.
The program featured conversations with actress and future Harvard fresh(wo)man Yara Shahidi; award winning actress Freida Pinto; model, designer, author, and body activist Ashley Graham; trailblazing supermodel and face of Maybelline Herieth Paul; Senator Cory Booker and Glamour Editor-in-Chief Cindi Leive.
"Our society needs to condemn this type of behavior by saying that our generation, and in this case your generation, that we are going to change this reality by making it absolutely unacceptable anywhere in our society when we see harassment." said Cory Booker when asked about his take on Harvey Weinstein.
"I started dating when I was 16. My first boyfriend Craig was a bad boy. A skater. An artist. But three months into our relationship he told me we had to break up. First, because I wouldn't have sex with him. Second, because he was afraid that I was going to get; "as fat as his mom." If I could go back to that moment and talk to myself, I'd say, 'Ash, I know you feel awful right now, but that guy is a total loser. You are worthy. That little bulge on your hip is not just okay to have, it's going to change the world someday.' Craig made me feel like my body was worthless. But cut too many years and experiences later, my amazing husband saw me for my worth and liked me so much he put a ring on it" said Ashley Graham.
Artist, poet, and social media superstar Cleo Wade performed a piece on perseverance. The inspirational young women of STEP, the Baltimore-based dance team featured in the award-winning Sundance documentary "Step," entertained with a powerful performance using just the sound of their own feet and DJ Vashtie Kola kept the energy flowing.
At the end of the event, each girl was gifted a backpack provided by STATE Bags as part of one of the company's well-known "bag drops."
As the founding beauty sponsor of Glamour's The Girl Project, Maybelline New York continues its efforts to make an impact with this initiative by presenting the October 11 event. The cosmetics brand first announced its philanthropic partnership with The Girl Project at its 100 Years Celebration in May 2015.
The Caterpillar Foundation announced its philanthropic support of "The Girl Project" at Glamour's 2016 Women of the Year Awards in Los Angeles.
The entire event was live-streamed on Twitter, Facebook and Glamour.com. Join the conversation on social media by following @glamourmag and using #Glamour4Edu.