On Saturday, October 14th the multi-platinum GRAMMY award-winning Zac Brown Band took the stage at the Southern Ground Amphitheater in Fayetteville, Georgia for the sixth annual Night of Candles benefit show in support of Camp Southern Ground.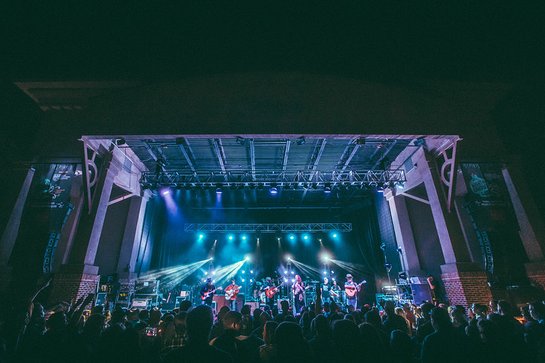 In a record breaking night, the event helped to raise 1.7 million dollars for Camp Southern Ground.
Camp Southern Ground is located on over 400 acres in Fayetteville, GA and will serve children ages 7-17, from all socioeconomic backgrounds, races and religions, with activities to challenge, educate and inspire campers. As an inclusive camp, Camp Southern Ground will bring together typically developing children, children with Autism Spectrum Disorders (ASD), learning and attention issues, social or emotional challenges, and those with family members serving in the military.
The evening's proceeds will help to support the build out of the first residential lodge on Campus. A large portion of the night was made possible by presenting sponsor Wells Fargo who made a generous donation to Camp Southern Ground to help with the construction of the lodge, which in the non-camp season will support military families and veterans, a cause Wells Fargo supports greatly.
"By working together with Zac Brown Band, and Zac's non-profit passion project Camp Southern Ground, we believe that together we can build a better homecoming for veterans, their families, and the communities we serve," said Jerry Quinn, Wells Fargo military affairs program manager. "Wells Fargo is proud to support Camp Southern Ground through philanthropy and volunteerism, and we are excited about the groundbreaking for their new lodge that will offer enriching experiences for our veterans."
Nine weeks out of the year Camp Southern Ground will host campers, and when camp is not in session the state-of-the-art facilities will be used to partner with military and veteran support organizations, like Wells Fargo, who will deliver their programs on the campus.
"Wells Fargo's support for veterans in transition is aligned with our mission related to serving those who have served and sacrificed to protect our freedoms and keep us safe. We are so grateful for Wells Fargo's generous donation which will go toward building our first essential residential lodge to house veterans while on campus and military children during our summer camps," said Camp Southern Ground President and CEO, Mike Dobbs.
Another successful evening for Camp Southern Ground means another step closer to opening the doors of the campus to children and families. It's through the support of the community and partners like Wells Fargo that Brown's passion project continues to grow.