Champion swimmer Michael Phelps and his growing family continue their partnership with Colgate this fall to inspire 10 million kids and teens to turn off the faucet when brushing because #EveryDropCounts.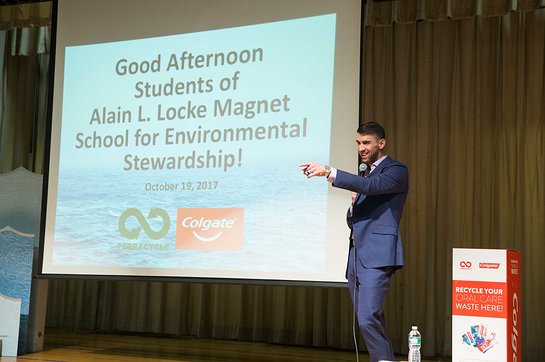 If embraced by 10 million youth, turning off the faucet could save approximately 80 million gallons of drinkable water each day.
Starting on World Smile Day on October 6, 2017, this youth-focused campaign began engaging kids and teens during Campus Sustainability Month with the Association for the Advancement of Sustainability in Higher Education (AASHE) and TerraCycle. In addition to turning off the faucet while brushing, kids and teens can spread awareness using #EveryDropCounts on social media and by learning more at EveryDropCounts.Colgate.com. Held every October, Campus Sustainability Month was founded by AASHE to raise the visibility of sustainability. Throughout the month, colleges and universities organize events to inspire and engage incoming students and campus stakeholders to become sustainability change agents.
Long-time sustainability partner of Colgate, TerraCycle is a global leader in innovative recycling programs helping to recycle nearly three million pieces of oral care product and packaging waste from more than 19,000 locations as part of the Colgate Recycling Program.
On October 19, 2017, Michael Phelps, Colgate and TerraCycle CEO Tom Szaky, visited a top participating school in the Colgate Recycling Program, the Alain L. Locke Magnet School for Environmental Stewardship, to talk about water conservation and how #EveryDropCounts.
"It's harder to break bad habits as you get older, so this is a perfect time for these children to learn good ones such as turning off the faucet while brushing their teeth," said TerraCycle CEO Tom Szaky. "Doing that one small task can make a big difference."
After spending the day teaching water-saving tips and tricks, Michael Phelps gave the elementary students each a water-activated drain sticker to apply to their bathroom sink as a visual reminder to "Turn Off the Faucet." These stickers will be further distributed to 30,000 students who are participating in TerraCycle's recycling efforts with Colgate households when they pledge to turn off the faucet. Each pledge represents a savings of up to eight gallons of clean, drinkable water daily.
"I have always strived to help make a difference in the world," Phelps said. "I spent most of my life in the water, so working to make sure we're conserving it for future generations is a a good place to continue making a positive impact."
As Michael Phelps and wife Nicole await their second child, their family continues to strive to set an example for the next generation. "Boomer is about to be a big brother. If we set a good example for him, he too can be a good example for his little brother or sister," said Phelps.
Separately, since this generation is more digitally connected than ever, Colgate created an Amazon Alexa skill called "Save Water by Colgate." Users can enable the skill to learn a water fact or hear the sound of running water while brushing to "replace" the sound of real water going down the drain. This skill is now available to customers with any Alexa device. Just say, "Alexa, open Save Water by Colgate."
"Colgate products are found in over two-thirds of homes worldwide2, but almost all Colgate products require water. Clean water is vital to the communities we serve, yet in many regions of the world it is becoming increasingly scarce," said Lori Michelin, vice president of sustainability & Environmental Health and Safety at Colgate-Palmolive. "Colgate invests in water conservation strategies at our global facilities, but 32% of Colgate's water use footprint is oral care.3 That's why we're reminding everyone that #EveryDropCounts because turning off the faucet can make an incredible impact."