No Longer Bound, a residential regeneration center for men with drug and alcohol addiction, is leveraging the power of social media in hopes of raising money for new vans.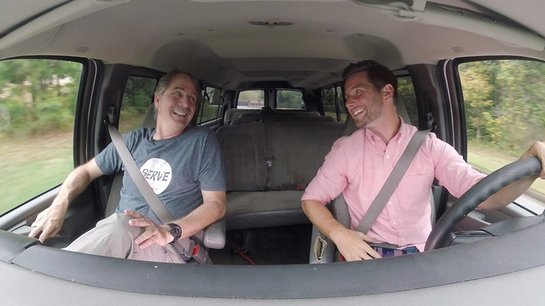 The non-profit has just released a Carpool Karaoke style video, featuring comedian Jeff Foxworthy and NLB's Executive Director Edward Bailey. The two take a ride in one of the NLB vans and play air guitar to the van's theme song (Slow Ride by Foghat), before shifting to a more serious discussion on addiction and NLB's model of regeneration and recovery.
The 40 men currently at No Longer Bound are in the fight of their lives from drug and alcohol addiction," said Bailey. "We've worked hard to deliver a world-class regeneration program and most everything is exceptional—except these vans. We are hoping that with the help of the community, we can raise enough money to finally be able to replace the vans and provide our residents with better transportation."
Foxworthy, best known for his "You Might Be a Redneck if…" brand of humor is also a champion of the broken and fallen man. In addition to Foxworthy's support of NLB, he also leads a weekly Bible study for homeless men at The Atlanta Mission.
NLB's goal is to purchase three used passenger vans at an estimated cost of $33,500 per vehicle or $100,000 for three new passenger vans. A YouCaring crowdfunding account has been set up for this purpose.
To donate: nolongerbound.com/vans