Aflac, the leading provider of voluntary insurance at the work site in the United States, today honored three heroes who have left a giant footprint in the fight against childhood cancer.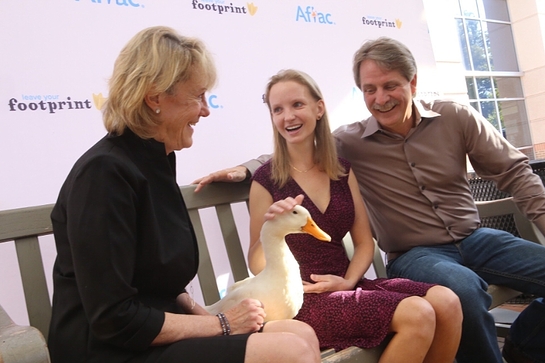 At the same time, the company celebrated a major milestone, exceeding the $100 million mark in contributions to the Aflac Cancer and Blood Disorders Center of Children's Healthcare of Atlanta, a nationally renowned children's cancer facility.
The three honorees, nationally recognized comedian, author and television personality, Jeff Foxworthy, Ansley Riedel, a nurse at Children's Healthcare of Atlanta who was treated at the Aflac Cancer Center as a child and Ansley's mother Vicki Riedel who successfully petitioned Aflac to sponsor the Aflac Cancer Center in 1995, saw their footprints added to the Duckprints Wall of Fame at the Aflac Cancer Center. The event was hosted by national television sports commentator Ernie Johnson, Jr., himself a cancer survivor.
"It is an absolute fact that all the Aflac Cancer Center has become, and all it has come to mean to our Aflac family, the families we treat and its position as a national leader in the fight against childhood cancer, began with one tiny footprint – that of a 10-month-old baby girl diagnosed with an aggressive form of adult leukemia," Aflac Foundation President Kathelen Amos said. "After Ansley's treatment, the passion that drove her mother Vicki to work for more resources, more hope and more cures led her to Aflac's door, creating a partnership that began in 1995 that we celebrate today."
Mrs. Amos continued, "The vision and leadership of Dr. Bill Woods and the enthusiastic financial support of so many people, including public figures with caring hearts, like Jeff Foxworthy, have raised awareness and have continued to move the needle every day toward better outcomes, better care and better science. As we celebrate multiple milestones today, that of 20 years and raising $100 million, there are no finer people to honor than these three, who continue to play an important part in the amazing story of the Aflac Cancer Center."
According to the American Cancer Society, the five-year survival rate for childhood cancer today exceeds 80 percent compared to less than 60 percent in the mid-1970s. And while cancer remains the most prevalent cause of death by disease for children, only a small percentage of government cancer funding goes toward childhood cancer.
"Our employees and agents across the nation understand the need to remain vigilant against childhood cancer, which is why in the past 20 years the Aflac Cancer Center has become a big part of who we are as a company," Aflac Chairman and CEO Dan Amos said. "The entire Aflac team embraces our mission to eradicate childhood cancer. There is more work to be done, but each and every day we inch closer to defeating this disease once and for all."
"It would be hard to imagine where we would be without the support of our Aflac family and people like the heroes we celebrate today," said Aflac Cancer Center Director Emeritus and 2013 Duckprints Awardee William G. Woods, M.D. "Our goal is to someday see each of our children celebrate happy lives with families of their own. We are getting there, and with continued dedication like what we are celebrating today, I am confident that the day will come when we will claim victory."
Each month, Aflac's independent sales associates contribute from their commission checks to the Aflac Cancer Center. Due in large part to this steady stream of research and treatment-related funding by Aflac agents, the center is currently recognized by U.S. News and World Report among the top 10 of pediatric cancer programs in America.
"You don't have to be smarter than a fifth-grader to understand why we need to put an end to childhood cancer," Foxworthy said. "You just have to come to a place like the Aflac Cancer Center and see for yourself the true meaning of courage. I am humbled by this award and by the opportunity to stand with people like Ansley and Vicki, who have paid it forward by dedicating their lives to helping others."
In addition to conducting Duckprints celebrations across the nation, Aflac is calling on unsung heroes across America to become active in the cause. The company is donating $2 for any Duckprints-related social actions taken on social media, including:
Twitter – $2 for any tweet using the hashtag #Duckprints or for retweets of Duckprints-related tweets. 

Facebook – $2 for any share of specific posts related to Duckprints or using #Duckprints.

YouTube – $2 per view of the Duckprints videos on YouTube.

Instagram – $2 for every post using the hashtag #Duckprints.
Aflac also created a website (aflacduckprints.com) that enables users to nominate unsung heroes in their community who have made a difference in the lives of children and families facing cancer. People can follow the Aflac Duck on his journey to hospitals around the country honoring those who have made a difference in the fight against childhood cancer. In addition, merchandise such as plush Aflac ducks and Duckprints-related T-shirts, slippers and other items will be available for purchase at aflacduckprints.com, with all of the net proceeds going toward the treatment and research of childhood cancer.