Five-time Grand Slam tennis champion, Maria Sharapova, has experienced some monumental moments in her career: Among them are in 2004, with the life-changing win at Wimbledon, and in 2012, with the launch of her own successful candy company, Sugarpova.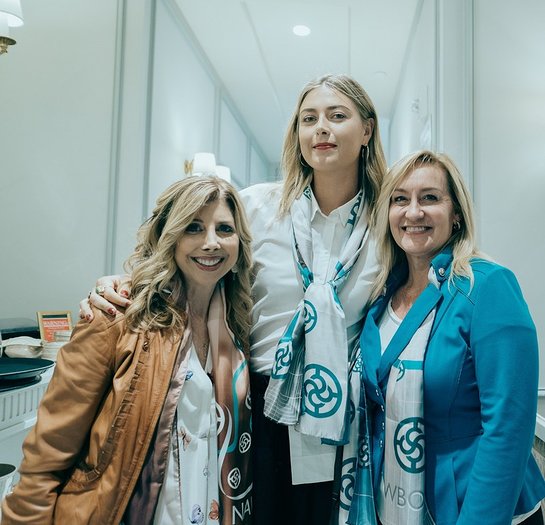 Today, in the spirit of philanthropy and women's empowerment, Sharapova is proud to announce that she is partnering with the National Association of Women Business Owners (NAWBO) along with her team to mentor female entrepreneurs through the Sharapova Women's Entrepreneur Program kicking off in Spring 2018 with a nationwide call for applicants from which up to six business women will be selected. Sharapova naturally turned to NAWBO as a partner for finding and identifying potential participants, and as a resource to help develop a robust curriculum for the 12-month-long mentorship program. Sales from Sugarpova will support the Sharapova Women's Entrepreneur Program.
Sharapova commented: "I only wish when I was starting out with my own company, Sugarpova that I had a group of mentors and the team I have now to help guide and support me. I recognize that supporting women-owned businesses by sharing expertise and valuable business resources can have a dramatic impact of growth of a business and can be a real catalyst for advancing the success of a business. Simply put, this partnership is about Women helping Women."
Over the past six years, Sharapova has learned the many business dimensions of starting a company with all the challenges and hurdles of the real-world experience along the way. Being a young startup, Sharapova wore many hats in growing Sugarpova, her off-the-court business. With Sugarpova reaching global sales penetration with double-digit revenue growth the last several years, Sharapova decided the time is right to pay forward her well-honed business skills – joining with the hefty rolodex and strong relationships of her business team — and set aside time from her busy competitive tennis schedule to help other women entrepreneurs, via mentoring support and networking opportunities and allocating her team's resources to help grow these women's businesses.
ABOUT THE PROGRAM:

The Sharapova Women's Entrepreneur Program will consist of 6 Women Business Owners that are selected from a nationwide call for applicants by Sharapova, in partnership with NAWBO and the NAWBO Institute. The program will run for 12 months, and is a cohort-based virtual/in-person hybrid program that will include mentorship, peer-to-peer support, mastermind and educational components to be delivered on a monthly basis by NAWBO and the Sharapova Business Resource Team led by Traub Consumer.
Through the Sharapova Women's Entrepreneur Program and NAWBO partnership, female businesswomen will be selected to receive support and resources from Sharapova's longtime marketing and business development teams as well as the NAWBO Institute. Each of the women selected will receive support from a range of both NAWBO and Sharapova's personal business resources in growing their business and in reaching their business goals.
SHARAPOVA, THE BUSINESSWOMAN:

As an international icon, Maria garners worldwide press coverage both on and off the court with a dominating social media presence that includes 15.3 million Facebook fans, 8.4 million Twitter followers and 3 million followers on Instagram. Sharapova serves as an ambassador to many of the world's top luxury brands and a number of Fortune 500 companies including Porsche, Nike, Evian, HEAD and Net Jets. Her business interests also include serving as an equity partner in the Ultimate Fighting Championship (UFC), the fastest growing sports organization in the world; Supergoop!, a skincare company dedicated to SPF protection; and as an investor in charly, a Toronto-based social experience platform.
"The NAWBO Institute is excited about partnering with Maria Sharapova in order to propel women to the next level of their business," said Loreen Gilbert, Chair-elect of the National NAWBO Institute. "She is an inspiration, who has graciously agreed to share her expertise, business savvy and tenacity to help other women excel."