7 For All Mankind, a division of Delta Galil industries, announced this week that it is launching a limited-edition Mankind Capsule in conjunction with Love is Louder, a project of the nonprofit organization The Jed Foundation.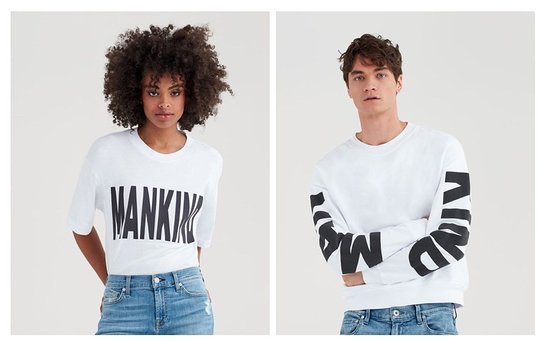 With a portion of proceeds being donated to Love is Louder, 7 For All Mankind is introducing a 14-piece collection that includes pieces for both men and women.
"Since Love is Louder continues to grow into a global community working together to create a world where we all feel more connected and supported, we are excited to announce our Mankind Capsule to raise awareness and donate proceeds toward this groundbreaking project – created by Brittany Snow and The Jed Foundation," said Jenna Habayeb, Chief Marketing Officer for 7 For All Mankind.
The capsule collection features statement t-shirts, hoodies, and sweatshirts for men & women with "MANKIND" graphics to celebrate the collective individuality of all people and the expression of mankind's whole, unique, beautiful self. Notable details include embossing, HD embroidery and print, as well as puff print. As with all 7 For All Mankind pieces, the Mankind Capsule collection is made in the U.S.
Love is Louder is a community of advocates around the world working online and on-the-ground in campuses and communities to combat issues like, bullying, body image, loneliness, and discrimination. Co-founder Brittany Snow has been joined by high-profile artists, personalities and experts on emotional health and resiliency to amplify a message of hope and help, and change lives in the process.
With the support of 7 For All Mankind, Love is Louder will be expanding its online outreach and bringing Love is Louder programs to more campuses to make those communities more inclusive and supportive.
"We hear almost daily from advocates who want to turn their campuses and communities into places where diversity is appreciated and celebrated," said Courtney Knowles, Director of Love is Louder. "Now is a critical moment to remind ourselves and those around us that mankind benefits from our different backgrounds, personalities, experiences and perspectives, and we are proud to partner with 7 for All Mankind on this collection."
"As we strive to do every day, we want to work with Love is Louder to celebrate the diverse fabric of humanity and create a more unified world," said Habayeb. "It's especially relevant today."
The Mankind Capsule will officially launch globally today on March 12, 2018 and will be available at 7 For All Mankind retail stores, exclusive wholesale partners, and the company's online platform.
For more information on 7 For All Mankind, click here.