Aflac, the leader in voluntary insurance sales at U.S. worksites and exclusive insurance partner of the Academy of Country Music Awards, today announced that the inaugural Aflac ACM Lifting Lives Honor was awarded to Judith Pinkerton from Las Vegas, Nevada.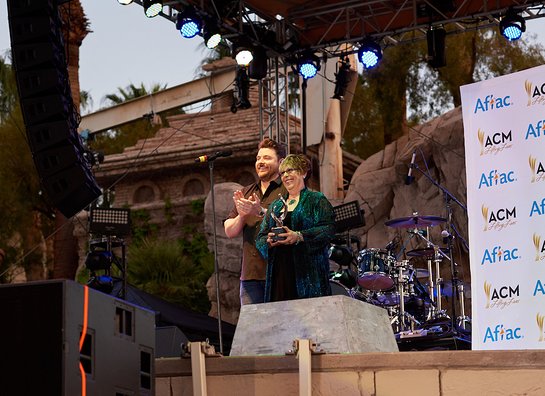 Aflac, along with multiplatinum country music star Chris Young and ACM Lifting Lives – the charitable arm of the Academy of Country Music, presented the honor to Pinkerton for excellence in music therapy. The trophy presentation was the subject of a television spot that aired during the 53rd Academy of Country Music Awards featuring Young, Pinkerton and the Aflac Duck.
Pinkerton, a licensed board-certified music therapist for more than 15 years, is a strong advocate for the profession. She was the first person in the U.S. to receive a board-certified music therapy license. Since then, she spearheaded a campaign to encourage other music therapists to become licensed and is focused on growing the profession nationally. She founded Music 4 Life Inc., which provides programs and products to support music therapy training. Pinkerton previously served as the president of the Western Region Chapter of the American Music Therapy Association and currently serves on multiple boards to help promote access to music therapy services.
"Aflac has a 23-year commitment to helping children and families facing childhood cancer, so we are honored to partner with ACM Lifting Lives to recognize Judith for her outstanding commitment to using her music therapy skills to help people cope with serious health issues," Aflac Senior Vice President, Chief Brand and Communications Officer Catherine Hernandez-Blades said. "Judith is a wonderful example of someone who is not only using her talents to positively impact her patients through music therapy, but also using her passion for the healing power of music to expand and advance her profession while helping others."
Pinkerton's experience with patients covers a range of health scenarios, including pediatric cancer, recovery, addiction, overall wellness and more. Last year, she was a first responder volunteering music therapy services and support to victims and their families after the shootings at the Route 91 Harvest Festival in Las Vegas.
"I am so incredibly grateful to be selected as the first-ever recipient of the Aflac ACM Lifting Lives Honor," Pinkerton said. "On behalf of 8,000 music therapists working across the U.S., we are so thankful for this monumental recognition of our profession!"
ACM Male Vocalist of the Year nominee Chris Young presented the honor to Pinkerton at WME's BASH at the BEACH leading up to the 53rd ACM Awards. To help increase awareness of the music therapy profession and the positive impact music can have on health and wellness, the presentation was captured on film and aired nationally just 48 hours later during the 53rd ACM Awards on Sunday, April 15, on CBS Television Network.
"This idea was born from the breadth of data showing the incredible impact of music on our health and overall wellness," said Nicole Mollen, vice president of Content at Spark Foundry, Aflac's media agency. "As Aflac looks to become more relevant in consumers' lives, we leveraged this data to create content that lives at the intersection of the brand's core values and what consumers care about most."
The purpose of the Aflac ACM Lifting Lives Honor is to acknowledge an individual who has made significant contributions to music therapy through education, service, clinical practice and/or research. A committee from the ACM Lifting Lives Board of Directors selected the recipient based on long-term efforts toward the development and growth of the music therapy profession.