Over the weekend, Uplift Family Services proudly honored the agency's friends and champions Ike Barinholtz and wife Erica Hanson with the Ambassador of Children Award, and the agency's first-ever Volunteer of the Year Award went to CAA's Chris Andrews.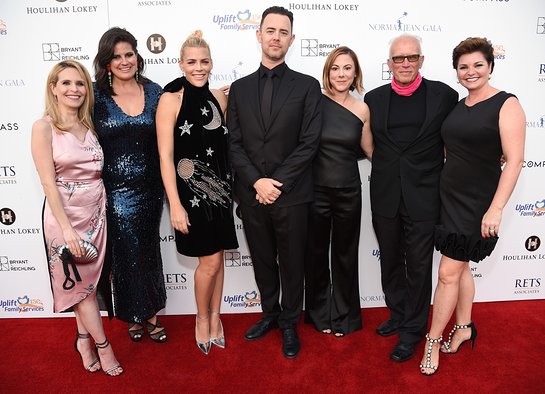 The master of ceremonies was Busy Philipps and the event featured a musical performance by Allie Crow Buckley.
Other guests included: Edgar Ramirez (presenting to Andrews); Colin Hanks (presenting to Barinholtz and Hanson) and wife Samantha Bryant; actress and lifestyle blogger Ali Larter; stand-up comedian and writer Hayes MacArthur (Super Troopers 2); Carson Meyer (A Million Little Pieces); Sally Pressman (NBC's "Good Girls"; TBS' "The Detour"); Nicole Sullivan ("Black-ish", "Disjointed", "MADtv"); Jon Barinholtz (NBC's "Superstore"); prolific character actor Peter Weller and more.
"Uplift Family Services is involved in active change," said Colin Hanks. "Time and energy spent helping these kids in our community is time well spent."
Uplift Family Services at Hollygrove's 7th Annual Norma Jean Gala benefitted the agency's behavioral and mental health programs that provide help and hope to more than 1,200 at-risk children and their families in the Hollywood and South Los Angeles communities. Its namesake is the Hollygrove campus' most famous alumni – Norma Jean Baker, who benefitted from the agency's care as a child before she ultimately came to be known as the international icon Marilyn Monroe. Proceeds from the Norma Jean Gala support Uplift Family Services at Hollygrove's unique and effective privately-funded therapeutic afterschool, summer and parent support programs that help create stability, strengthen the family and provide a greater chance of success for the child to become productive and thrive. In addition to underwriting support from presenting sponsor Houlihan Lokey, major gala sponsors included: RETS Associates, Bryant-Reichling Real Estate, CAA, CB Technologies, COMPASS Hollywood, the Johnny Carson Foundation, UTA and Paramount Studios, CIM Group.