Tech entrepreneur and creative innovator will.i.am was in Amsterdam last week to help select and crown the winner of the Chivas Venture 2018 – Chivas Regal's global competition that gives away $1 million in no-strings funding every year to the world's most promising social startups.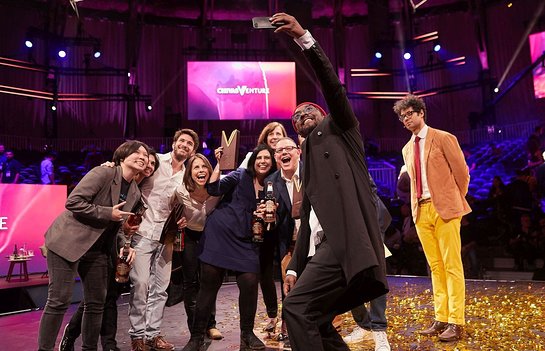 From 27 finalists, U.K. enterprise Change Please walked away with the greatest amount of funding, receiving $350,000 following a live pitch at Europe's leading tech festival, TNW Conference, in front of thousands of international tech enthusiasts, investors and entrepreneurs.
Change Please empowers the homeless community by training them to be baristas. The London-based startup takes the homeless off the streets and ensures they find housing within 10 days – as well as providing bank accounts and jobs paying the London Living Wage. Their coffee, served in environmentally-friendly cups, is responsibly sourced from farms that support local communities in need.
Reacting to his win, Founder of Change Please, Cemal Ezel, said:
"I'm so happy – I think I'm still in shock. It's been a hard and long journey, but to have made 26 incredible new friends from all over the world – that's been the real highlight for me. The last four months have been amazing; I just want to give a huge thanks to Chivas."
The Global Final – hosted by BAFTA winning actor, writer, director and television presenter, Richard Ayoade – was the culmination of the fourth year of the Chivas Venture. This year's competition attracted 2,600 entries from across the world, which were whittled down to 27 finalists all competing for a share of Chivas Regal's $1 million fund. The judging panel – which comprised will.i.am, Founder & CEO, I.AM.PLUS; Alexandre Ricard, Chairman and CEO of Pernod Ricard – parent company of Chivas Regal; Sheila Herrling, Senior Fellow at The Beeck Center for Social Impact + Innovation; and Kresse Wesling MBE, Co-Founder and Director of sustainable luxury brand Elvis & Kresse – assessed each startup based on their ability to create sustainable change through a viable business model and potential to scale.
The four other finalists to receive significant funding were: Mestic from the Netherlands ($200,000) – which converts cow manure waste into biotextiles, bioplastics and biopaper; Spain's BraiBook ($100,000) – creator of the first Braille eReader; The Picha Project from Malaysia ($50,000), which supports marginalised communities through a sustainable food catering and delivery business; and change: WATER Labs from the USA, ($50,000) – which has developed low-cost, waterless toilets for non-sewered households and communities around the world.
A People's Choice Award was also determined live on the night by the studio audience and over 420,000 viewers watching via the live stream – with will.i.am announcing that the public had decided to award an additional $50,000 of funding to Eric Sicart from BraiBook.
Reacting on the night, judge will.i.am said:
"Thanks to the Chivas Venture we're recognising a new wave of entrepreneurs that just get it. The superstars of tomorrow are founders of companies like these that are solving the world's problems. I thank Chivas for lifting up and shining a light on social startups who are changing the world for the better."
Pernod Ricard Chairman and CEO Alexandre Ricard added:
"The Chivas Venture is an initiative I am personally very proud of. More than just a competition, it brings together entrepreneurs and innovators who are having a real impact on the world, and changing the way we do business. We have given away $3 million of funding since the competition first started, and our finalists are now enriching over 1million lives in over 40 countries across 6 continents. That's not a bad return on investment."
Now in its fourth year, the Chivas Venture has received over 8,000 applications to date. Since the competition began in 2014, Chivas-supported startups have cut over 60 million tonnes of CO2, recycled 13,000 tonnes of waste and saved over 8 million trees and 1 million honeybee colonies. 75,000 days of education have been funded for women and girls, 24 million litres of clean drinking water have been provided, and 23,000 households now have safe energy.
Chivas believes that generosity and success go hand in hand – a belief that was inspired by founding brothers and entrepreneurs, James and John Chivas, who shared their success with the local community as their business grew. Today, through the Chivas Venture, Chivas champions likeminded entrepreneurs who want to succeed while changing the world for the better; social enterprises are invited to apply for the chance to win a share of $1 million in funding and resources as entries for the Chivas Venture 2019 open in September 2018. Visit www.chivas.com/the-venture for further details.