KISS star Gene Simmons together with Shannon Tweed Simmons and their Alaskan Malamute George made a surprise family visit to local Los Angeles dog rescue Wags & Walks this week to help raise awareness about dog rescue and deliver hundreds of toys and treats to loving dogs in need of homes.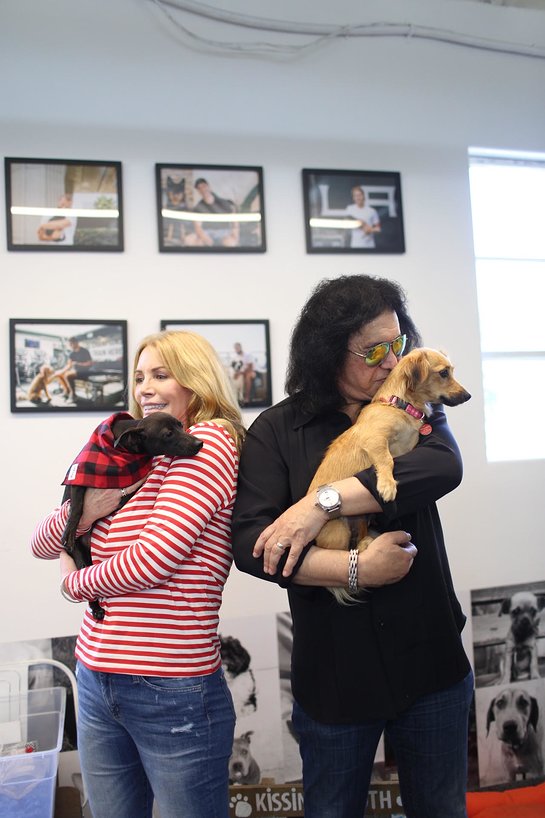 His appearance coincided with a public dog adoption event that included a dog kissing booth, a puppy ball pit, and a very special dog cake in Gene's image from The Dog Bakery.
Everyday, a number of sweet and healthy dogs are being euthanized due to overcrowded shelters. In Los Angeles, Wags & Walks aims to break the stigma that rescue dogs are damaged goods by rescuing dogs at high kill shelters and caring for them at their adoption center, placing them with loving fosters, and helping them find their forever homes. Dog lover Gene Simmons, who has four rescue dogs himself, partnered with iHeartDogs to make a surprise visit to Wags & Walks to deliver a number of toys and treats to make the stay of the rescue dogs more enjoyable before they find their forever homes.
iHeartDogs.com is the leading "profit for purpose" pet goods manufacturer and e-commerce retailer, supporting animal shelters and rescue organizations around the nation. Veteran-owned and operated, iHeartDogs was founded in 2014 as a Facebook page inspired by a rescued Siberian Husky named Splash, and has grown to over 20 million online followers and 1 million loyal customers. Through each customer purchase, iHeartDogs is able to fund millions of meals for shelter animals, provide hundreds of thousands of safe toys to shelters and helps fund service and companion animals for veterans. Named one of the nation's fastest-growing companies by Inc. 500, iHeartDogs runs on the simple belief that every dog matters.
Founded by Lesley Brog, Wags and Walks is a nonprofit organization whose primary mission is to match people with dogs that need a home and to save dogs' lives on death row. Wags and Walks is a nonprofit 501c3, tax deductible organization run completely off of charitable contributions and volunteer support.