Here's your chance to win a dream come true and sing karaoke with Kermit The Frog – and all you have to do is donate to charity.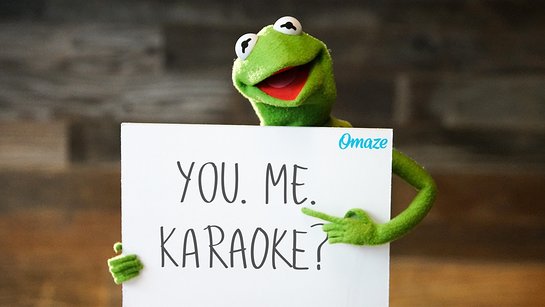 omaze.com is giving you and a friend the once-in-a-lifetime opportunity to hop it to Los Angeles to join Kermit for a day you'll never forget. You and Kermit will belt out your favorite tunes (Mahna Mahna, anyone?) and take selfies together, plus you'll high-five flippers with the most famous frog in showbiz. Find out for yourself how easy — and awesome — it is being green. It's going to be the most sensational, inspirational, celebrational and Muppetational one-of-a-kind experience ever! Flights and hotel included.
All you need to do to get in the draw is visit omaze.com and donate to WE. The more you donate, the more chances to win. WE is a movement that brings people together and gives them the tools to change the world. Your donation will support the WE Schools program, which aims to empower over 100,000 students, including undeserved youth, to engage in service. Students will receive the inspiration, mentorship, educational resources, tools and support they need to create impact for a cause of their choice. As a result, these incredibly deserving kids will contribute to their local communities, develop important life skills and become the change-makers of their generation.
To find out more and enter, click here.