Carter Wagner's autoimmune condition brings him daily challenges. His happiness comes from spending time with his family and listening to Ed Sheeran music.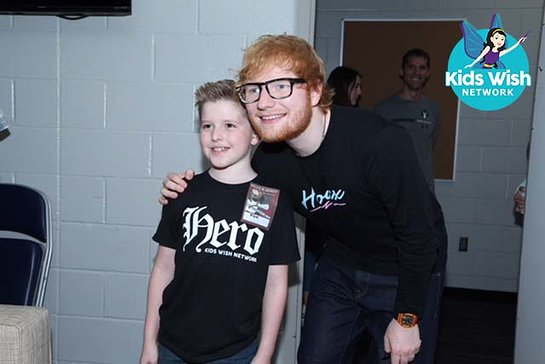 Kids Wish Network, a children's charity that grants wishes for kids with life-threatening illnesses, planned the "Perfect" wish…he'd be traveling with his family to see Ed Sheeran in concert. Samuel would also be in for a big surprise.
Kids Wish Network flew Carter and his family to Boston for his musical adventure. On Carter's special day, it was show time. After arriving at Gillette Stadium, the excitement for Carter started even before the concert. He was taken backstage and met music superstar Ed Sheeran! "I was surprised and nervous," said Wish Kid Carter. "It was crazy… I didn't think I'd ever be meeting him." Carter found out just hours before the show.
Carter's favorite song is Photograph – he had many taken with Ed Sheeran. Carter's treasured photo is a Polaroid of them together that Ed Sheeran signed. They also spent time talking about the night's performance being Carter's first concert and his most-loved songs.
During the wish, the family was indulged at the elegant Battery Wharf Hotel, staying in the luxurious Presidential Suite. They also enjoyed festive dinners at Red Robin and Wahlburgers who went out of their way to make his wish experience extra special.
"The wish was perfect," said Carter's mom Christine. "He was thrilled and full of excitement. We're so grateful and had the best time."
"We're glad that Carter had the experience of a lifetime meeting Ed Sheeran," said Kids Wish Network Executive Director Tam Lai. "His wish was a special time shared with his family that he'll always remember."
Kids Wish Network is a national charitable organization dedicated to infusing hope, creating happy memories, and improving the quality of life for children with life-threatening conditions and struggling with life-altering situations. KWN provides trip expenses, meals, accommodations and additional spending monies to all wish families whenever traveling as applicable. Visit www.kidswishnetwork.org to learn about their different programs, and find out how you can help make dreams come true and sponsor a wish for a deserving child.