UNHCR Special Envoy Angelina Jolie carried out an official visit to Peru last week.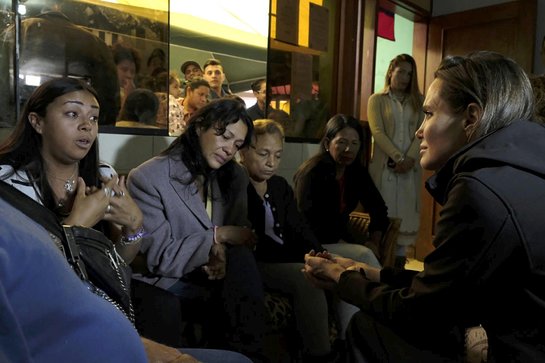 Peru is one of the countries most affected by the surge in Venezuelan refugees and migrants – the largest movement of people in Latin America's recent history.
Following up on the UN High Commissioner for Refugees' recent visit to the region, Jolie undertook a three-day mission to assess the humanitarian needs of Venezuelan refugees and the challenges facing Peru as a host country, and to discuss the possible regional responses to the crisis.
During her mission, the Special Envoy met refugees, representatives of the Government of Peru and organizations contributing to the humanitarian response. She visited programmes providing protection and assistance to asylum-seekers, refugees and host families, and observed Peru's generous response to Venezuelan refugees and migrants.
"I told President Vizcarra how much UNHCR appreciates the steps Peru has taken, to help Venezuelans have legal status and access to basic services," said Jolie while in Peru. "And we discussed the regional efforts being carried out in the Quito process, which is a first step towards a regional solution.
"We also spoke about what more the international community can and should be doing to support Peru and its neighbors.
"The number of people displaced worldwide continues to increase, it now stands at 68.5 million people. One person is forcibly displaced every two seconds as a result of conflict or persecution.
"There is justified public concern about this unprecedented movement of people across borders internationally. And a perception that the distinction between refugees and economic migrants, enshrined in international law, is being blurred.
"Whereas economic migrants choose to move, often for very understandable reasons, refugees face an immediate threat to life and cannot return home safely and their protection becomes a shared international responsibility.
"At a time when fundamental principles are being questioned, it is more important than ever that we have the systems and resources in place to identify people with genuine refugee and asylum claims, and to make sure that they have the support that they need. It is crucial to reinforce the rule of law, respect for human rights, international protection and asylum systems.
"This applies as much to the situation in Mexico, where UNHCR is reinforcing its presence in the south, encouraging people to register and apply through legal means, where they can define their reasons for seeking asylum.
"Most of all, wherever we live, we need our governments to do more to address the conflict and insecurity that is creating refugees, so that people can return to their countries. In my experience the vast majority of refugees want to do just that: they want to return home."
The Special Envoy focuses on major displacement crises, representing UNHCR and the High Commissioner at the diplomatic level. The Special Envoy Jolie last visited Latin America in 2012, for a mission to Ecuador, her third visit to meet then Colombian refugees in the region.