On Thursday, November 1, World of Children, a global recognition and funding organization for individuals exclusively serving the needs of vulnerable children, honored five real-life heroes that have dramatically improved the lives of at-risk children at the 2018 World of Children Awards Ceremony & Benefit.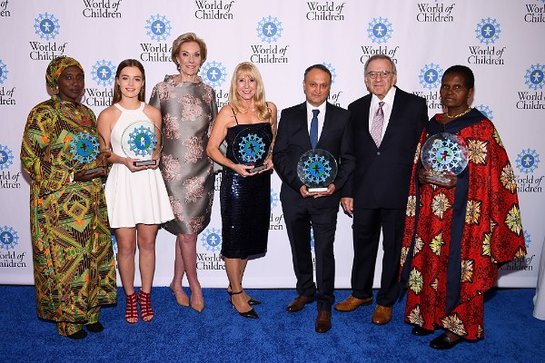 Alina Cho (World of Children Advisory Council, CBS Sunday Morning Contributor) emceed the event and was joined by featured speakers Caryl Stern (President and CEO, US Fund for UNICEF) and Andy Adler (Sportscaster, Journalist, TV Personality).
Celebrities, VIP guests and World of Children supporters in attendance include Miss USA Sarah Rose Summers, Daniela Braga (E!'s Model Squad, Host Committee), Daiane Sodré da Silva (Model), Luna Castilho (Model), Leonard Gorski (President & CEO, Gorski Group), Rebecca Minkoff (Co-Founder & Creative Director, Rebecca Minkoff), Vivienne Hu (Fashion Designer), Vlada Roslyakova (Model), Harry Leibowitz and Kay Isaacson Leibowitz (World of Children Co-Founders, Event Co-Chairs) and more.
Over 450 guests gathered at 583 Park Avenue in New York City for an inspiring night recognizing the newest class of World of Children Honorees that lead high-impact programs in the categories of education, health, humanitarianism, protection and youth helping youth. The evening featured a cocktail reception, dinner program, and special performance of the World of Children anthem, "Can You Hear," by the United Nations International School (UNIS) Choral Club. Guests also enjoyed a lively pledge drive led by auctioneer Harry Santa-Olalla – bringing the overall event fundraising total to more than $850,000. With these donations, World of Children will be able to help fund the Honorees high-impact programs, helping to change the lives of thousands more children.
The 2018 World of Children Honorees include the following: Humanitarian Award Honoree Phyllis Keino (Founder, Lewa Children's Home in Kenya), Health Award Honoree Sandy Kemper (Founder, Smiles Forever in Bolivia), Protection Award Honoree Anta Mbow (Founder, Empire des Enfants in Senegal), Education Award Honoree Ehsan Mehrangais (Founder, Afghanistan Demain in Afghanistan) and Youth Award Honoree Caragan Olles (Co-Founder, Bright Young Dyslexics in Wisconsin).
The Awards Ceremony also honored New York-based Devin Beresheim (Practice Leader, Marsh FINPRO) and his wife Sarah with the 2018 Board of Governors Award for their unwavering dedication to the organization and elevating awareness for child advocates. Five years ago, Devin Beresheim was introduced to World of Children by a colleague and began serving as a member of the Board of Governors. For the last four years, Sarah and Devin have successfully chaired the Summer Golf Classic, raising more than $1.2 million for World of Children.
World of Children receives thousands of nominations from around the world ever year and uses a uniquely rigorous vetting process to select Honorees. Recognized by the media as the "Nobel Prize for Child Advocates," Honorees receive a substantial multi-year grant to help their program grow and ultimately impact the lives of even more children.