Last week, World of Children, a global recognition and funding organization for individuals exclusively serving the needs of vulnerable children, celebrated heroes for children at the annual 2018 World of Children Hero Awards Benefit at Montage Beverly Hills.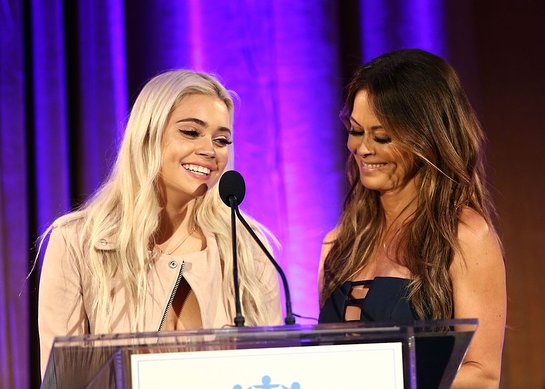 Brooke Burke (TV Personality, Creator of BrookeBurkeBody, CEO of Modern Mom, Host / Co-Producer of Hidden Heroes) emceed the event and was joined by special guests Lily Aldridge Followill (World of Children Ambassador, International Model, Child Advocate) and Caryl M. Stern (President and CEO, U.S. Fund for UNICEF).
Nearly 300 guests gathered for a special evening recognizing Veronica and Brian Grazer with the World of Children Board of Governors' Award, and four extraordinary individuals for their work with children in various parts of the world. Attendees enjoyed a cocktail reception, dinner, silent auction, and awards program featuring special performances by the West Los Angeles Children's Choir and The Kenyan Boys Choir. With the donations made during the event's auction, World of Children will be able to increase each of the four Honorees' original grants by 33%, helping to change the lives of thousands more children.
Celebrities, VIP guests and World of Children supporters in attendance included Lionel Richie (Recording Artist / American Idol), Norman Lear (Writer / Producer), Bethany Mota (Social Media Personality), Christina Milian (Recording Artist), Jimmy Iovine (Music Producer), Rachel Roy (Fashion Designer), V. Bozeman (Recording Artist / Actress), Dana Walden (Chairman and CEO, Fox Television Group), Gary Newman (Chairman and CEO, Fox Television Group), Jim Gianopulos (CEO, Paramount Pictures), Ron Meyer (Vice Chairman, NBCUniversal), sponsor Haim Saban (Record, Film and Television Producer), Emmersyn Fiorentino (Actress), as well as Kay Isaacson Leibowitz and Harry Leibowitz (World of Children Founders / Event Co-Chairs), and more. In addition, Brooke Burke's daughters Neriah Fisher and Rain Charvet, Brian Grazer's son Patrick Grazer, along with Rachel Roy's daughters Tallulah and Ava Dash were among the evening's presenters.
Veronica and Brian Grazer received the World of Children Board of Governors' Award for their unwavering dedication to the organization, elevating awareness for child advocates, and for being instrumental in establishing the annual Hero Awards Benefit. Max Frieder (Founder, Artolution) received the 2018 Crisis Award, presented in partnership with UNICEF USA, for igniting positive social change via impactful, large-scale interactive murals around the world, and empowering youth in communities that face social exclusion and trauma, including refugees, the incarcerated, people with disabilities, and young people living in areas of conflict or extreme poverty. During the event, exclusive mural art pieces from Rohingya and Syrian Refugee Camps were featured in the silent auction.
Additionally, three other individuals were honored with the 2018 Hero Award, a unique honor given to past Honorees who have previously received a World of Children Award. These are individuals who have leveraged their original awards far beyond what could have been anticipated – delivering an even more profound impact for children. The 2018 Hero Award Honorees included the following:
2018 Youth Alumni Honoree: Sarah Cronk, founder of The Sparkle Effect, is helping students create middle school, high school and college dance and cheer teams that bring together students with and without disabilities.
2018 Humanitarian Alumni Honoree: Douglas Maclagan, founder of Child Welfare Scheme, which provides education, healthcare and social opportunities for vulnerable and disadvantaged children in Nepal.
2018 Health Alumni Honoree: Dr. Elizabeth Jones, co-founder of Foundation for the Children of the Californias, which provides a nonprofit pediatric medical center to meet the critical needs of children in Tijuana, Mexico.
The 2018 World of Children Hero Awards Benefit Honorary Chairs include Daniela Braga, Molly Eldredge, Jeffrey Kapor, David E. Salzman, Sandy Sholl, and Caryl M. Stern. Event Co-chairs for the event include Molly Eldredge, Kathy Fogel, Adam Freede, Veronica Grazer, Craig Leibowitz, Rachel Roy, Susie Sheinberg, and Sandy Sholl.