For the 12th year, B. Riley Securities presented the Sugar Ray Leonard Foundation "Big Fighters, Big Cause" Charity Boxing Night on Wednesday, May 24 at The Beverly Hilton.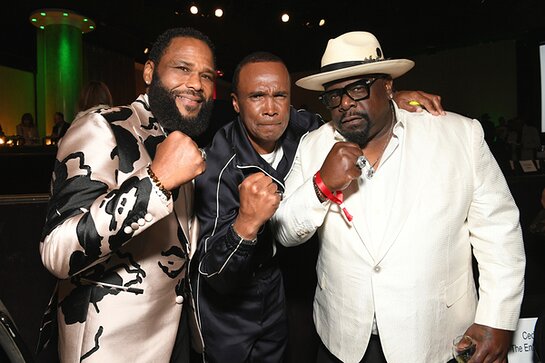 Actor Chris Spencer hosted the exclusive star-studded event which featured first-class entertainment, a National Anthem performance by emerging pop/R&B singer Gabby Samone, four action-packed live fights presented by Golden Boy Promotions, and a live and silent auction display featuring iconic memorabilia and one-of-a-kind items and experiences.
The evening also honored Emmy and Golden Globe-nominated actor Anthony Anderson with the 2023 Golden Glove Award, recognizing his commitment to raising awareness for diabetes. Anderson is an advocate for diabetes awareness and a spokesperson for the "Get Real About Diabetes" campaign. Diagnosed with Type 2 diabetes, he is active in his community and a champion of the cause.
While accepting the award on stage, Anderson said, "Ray, thank you very much for giving me this honor. I appreciate what you and your lovely wife Bernadette have been doing for the last 12 years bringing awareness to pediatric diabetes. I'm a type 2 diabetic myself and I really appreciate that your Foundation is there to fight this disease for the children of our community."
The event raised $500,000, with proceeds benefiting the Sugar Ray Leonard Foundation's mission to fund life-changing research, care and awareness for pediatric type 1 and 2 diabetes, and to help children live healthier lives through diet and exercise.
Among the other celebrity guests in attendance, the Foundation welcomed Sugar Ray Leonard and Bernadette Leonard, Michael Buffer, Brooke Burke, Cedric the Entertainer, Johnny Gill, Berry Gordy, Kathy and Richard Hilton, Lil Rel Howery, LL Cool J, Jimmy Jam, Ellen K, Mario Lopez, Sergio Mora, Sugar Shane Mosley, Rodney Peete, Holly Robinson-Peete, Kalis Reis, Smokey Robinson, Gabby Samone, Robert Shapiro, Ali Siddiq, Chris Spencer, Mia St. John and David Winfield, among others.
The live fights presented by Oscar De La Hoya's Golden Boy Promotions featured a six-round light heavyweight match. Kareem Hackett (11-0, 6 KOs) secured a fifth-round knockout against Christian "Liger" Thomas (11-3, 9 KOs). In a jaw-dropping four-round lightweight co-main event, Daniel "Ikaika" Luna (2-0, 2 KO) defeated Jonathan Teofilo (0-1-1) via second-round knockout. Also on the card in a four-round super welterweight was Fabian Guzman (2-0, 2 KO) of Orange, CA who defeated Rahiem Cooke (1-5) via second-round knockout. Opening up the action was a four-round super bantamweight fight between Juan Carlos Gonsales (2-0, 1 KO) of Los Angeles and Jonathan Tejeda (0-5) of Mexico City. The fight also went the distance with judges scoring the bout unanimously in favor of Gonsales with scores of 40-36, which started off the night of boxing with all-out-action for the guest in attendance.
Nick Jonas' Villa One was the exclusive tequila sponsor of the evening. Guests were treated to Villa One's award-winning expressions of tequila in specialty craft cocktails including the "Sucker Punsche" made with Villa One Silver and "Fancy Footwork" made with Villa One Añejo. Guests also sipped on the tequila served neat – enjoying the unique flavor Villa One provides thanks to a blend of agave from the highland and lowland regions of Jalisco, Mexico. Villa One was served across all bars at the event as well as at the VIP Villa One Cocktail Bar.
The event took place during B. Riley Securities' 22nd Annual Institutional Investor Conference, a two-day premier investment and networking event which brings together public and private companies with institutional investors, high-net worth individuals, and corporate clients, as well as select members of the press. Conference attendees also joined the Charity Boxing Night.