Barbra Streisand received The Justice Ruth Bader Ginsburg Woman of Leadership Award, the fourth-ever presentation of this prestigious honor, last week in a private ceremony.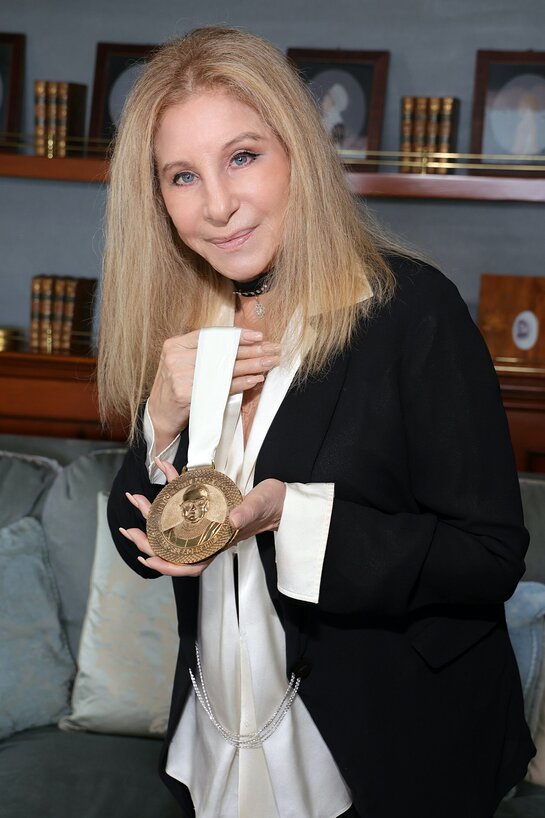 The award was presented by The Honorable Justice Sonia Sotomayor and Julie Opperman, Chair of the Dwight D. Opperman Foundation. Streisand was chosen as the 2023 recipient earlier this year by the Dwight D. Opperman Foundation board, Justice Ruth Bader Ginsburg Leadership Award Nominating Committee and Voting Council members.
Recognizing the impact she had on the world and wishing to inspire leaders for generations to come, Justice Ginsburg established her legacy award with Opperman in 2019. The Justice Ruth Bader Ginsburg Woman of Leadership Award is presented annually to leaders who have distinguished themselves by assuming a leadership role and making a meaningful change in the lives of others.
Streisand, an artist who redefined Hollywood's definition of femininity and what it means to be a powerful woman in the entertainment industry, has built a timeless career receiving nearly every prestigious award in recognition of her work. To this day, she remains the first woman to direct, produce, write, and star in a major motion picture, as well as the first female composer to receive an Academy Award.
Outside of her success as a performer, Streisand is a dedicated philanthropist. In addition to The Barbra Streisand Women's Heart Center at Cedars-Sinai, she funded early climate change research and continues to fight for voter rights, as well as advocate for gender and racial equality.
Through the commitment and passion of Opperman, David Rubenstein and the award committee, The Justice Ruth Bader Ginsburg Woman of Leadership Award is positioned to become the most significant recognition of women in leadership globally.
"We were honored to present The Justice Ruth Bader Ginsburg Woman of Leadership Award to The Queen of England last year, and we are equally ecstatic this year to honor our own queen of music and film, Barbra Streisand – an unrivaled American cultural icon who has brought her own brand of magic to the entire world," said Chairman of the Dwight D. Opperman Foundation and award creator, Julie Opperman. "I made a promise to Justice Ginsburg to help preserve her legacy and to ensure that this award that bears her name continues to recognize strong women leaders who have made the world a better place, and I only wish she was here today to celebrate Ms. Streisand with us."
Ms. Streisand was nominated by Adrienne Arsht, Lionel Richie and Mo Rocca, three of the 12-member award committee, and was elected unanimously by the voting council.
Justice Ginsburg presented the inaugural award herself to esteemed justice reform advocate and noted philanthropist Agnes Gund. The Justice Ruth Bader Ginsburg Woman of Leadership Award was presented to HM Queen Elizabeth II in 2021, marking the only award that Her Majesty accepted during her 70 years on the throne that was not presented by a nation. Fashion industry icon, author, and esteemed philanthropist, Diane von Furstenberg, was the 2022 award recipient.