This past Sunday, Dec. 2, Ashley Greene deployed to Northern California to assist the ASPCA in their efforts to help animals affected by the Camp Fire.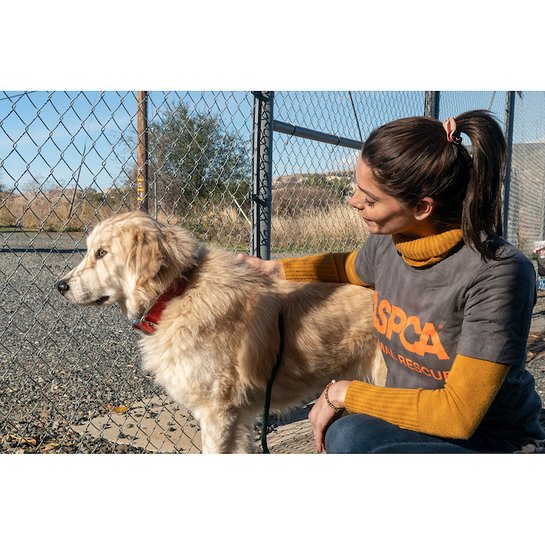 With the ASPCA, Ashley helped socialize dogs and cats, took part in reunification of pets and their owners, as well as assisted with daily care of these animals in need.
"As an animal lover, I am so proud to support the ASPCA's disaster relief efforts while they care for animals impacted by the devastating wildfires in California," said Ashley. "To see this work first hand and witness families being reunited with their lost pets was an experience I'll be forever grateful for."
Since early November, the ASPCA (American Society for the Prevention of Cruelty to Animals) has been on the ground in California working around-the-clock to assist animals impacted by the unprecedented wildfires that devastated the state. At the request of Butte County Animal Control (BCAC), the ASPCA disaster response team is helping to provide ongoing care for animals displaced by the Camp Fire in Northern California. Nearly 20 responders are assisting BCAC and their partner, North Valley Animal Disaster Group, with daily care and reunification efforts for approximately 1,600 animals at three emergency shelters.
Earlier this month in Southern California, a team of ASPCA responders assisted Los Angeles County Department of Animal Care and Control (DACC) in providing emergency sheltering support for more than 800 animals impacted by the Woolsey Fire. The ASPCA continues to assist animals in Southern California by partnering with Alaska Airlines to relocate more than 100 shelter animals from the DACC to partner shelters in the Northwest. These lifesaving transports will provide the shelter animals with a second chance at finding safe and loving homes and free up much-needed resources to provide ongoing services and support as the community recovers from the devastating Woolsey Fire.
"Even though the California fires are contained, thousands of pets and people have been separated and their lives severely disrupted. We're working closely with local rescuers and shelters to care for animals in need and reunite families as quickly as possible knowing that pets are a strong source of support," said Matt Bershadker, president and CEO of the ASPCA. "These fires demonstrate the extreme dangers faced by pets during disasters, and we're happy to play a vital role in their care and safety."
In total, the ASPCA has assisted local groups in providing care for more than 2,500 animals impacted by the two fires combined. The following groups assisted with these lifesaving efforts, either by deploying responders to provide on-the-ground support or taking in displaced shelter animals relocated out of California: Columbia Humane Society, Humane Society of Southwest Washington, LuvnPupz, Oregon Humane Society, Seattle Humane Society, and Valley View Ranch Equine Rescue.
The ASPCA Field Investigations and Response and Animal Relocation teams deploy nationwide to assist in relocation, search-and-rescue, sheltering and placement of animals during disaster situations including wildfires, tornadoes and hurricanes. In addition, the ASPCA works closely with local agencies across the country to help enhance their animal response capabilities through grants and training opportunities.