The Latin GRAMMY Cultural Foundation has announced that it is accepting applications for the Emilio and Gloria Estefan Scholarship from music students admitted to Berklee College of Music who are interested in Latin music.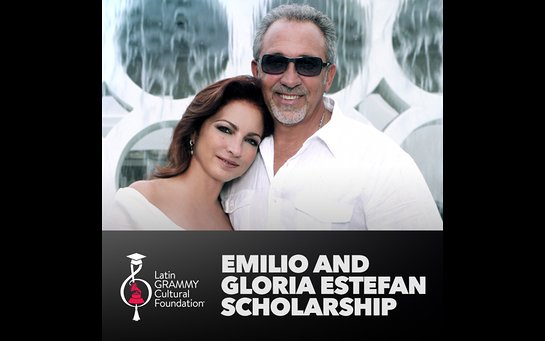 The four-year scholarship, which holds a maximum value of $200,000 USD, was created five years ago in an effort to support music education and Latin music genres, and will be awarded to a student who is exceptionally gifted and needs financial assistance to complete a bachelor's degree in music.
Emilio Estefan is a multiple Latin GRAMMY and GRAMMY winning musician, songwriter and producer, and is the first artist to receive the coveted Latin Recording Academy Person of the Year recognition in 2000. His extraordinary vision for business and talent transcends the music field and spills over into film, television, Broadway, hotels, and restaurants, among other endeavors.
Since taking the music industry by storm in 1985 as the lead singer of the Miami Sound Machine to a successful transition as an international superstar, multiple Latin GRAMMY and GRAMMY winner Gloria Estefan is one of the most accomplished singer-songwriters in the music industry. Gloria was honored with the Latin Recording Academy Person of the Year recognition in 2008.
Emilio and Gloria's musical talents have not only catapulted their own careers, but have paved the way for other talented artists.
"Twenty years ago we were part of the founding committee that launched the Latin GRAMMYs and it is such a satisfying honor to be a part of this organization as benefactors that will make reality the dream of one student with interest in Latin music. It is a pleasure to support and help a student attend one of the most prestigious and celebrated universities in the world, Berklee College of Music," said Emilio Estefan on behalf of the Estefans.
"It is a privilege for us to have the support of music icons Emilio and Gloria Estefan," said Manolo Díaz, Sr. Vice President of the Latin GRAMMY Cultural Foundation. "As musicians and entrepreneurs, the Estefans have a vast knowledge of all the areas in the industry. Through their leadership and support we hope to — not only change the life of an aspiring talent — but also inspire others to pursue the many careers available in music while inviting people to join our cause through donations."
Every year, the Foundation's Scholarship Committee carefully evaluates applications from a highly competitive pool of aspiring musicians on a variety of skills and under rigorous policies.
As of today, the Latin GRAMMY Cultural Foundation has committed to donating a remarkable $4 million USD towards 200 scholarships, musical instrument donations, and educational events in Ibero-America.
This is the fifth Prodigy Scholarship awarded by the Latin GRAMMY Cultural Foundation, which supports a four-year education. Previous artists who have co-sponsored scholarships include Enrique Iglesias (2015), Juan Luis Guerra (2016), Miguel Bosé (2017), and Carlos Vives (2018).
For applications, guidelines, and for the latest news please visit the official website of the Latin GRAMMY Cultural Foundation at LatinGRAMMYCulturalFoundation.com. As part of the process, students must complete two audition videos, submit two letters of recommendation and answer two essay questions. The materials can be submitted in English, Spanish or Portuguese. The deadline to apply is April 10, 2019, by 11:59 p.m. ET (United States Eastern Standard time).