The LA to NYC road trip has long been a staple bucket list adventure, but is there a way to complete it with a reduced CO2 footprint? That's the challenge set by Kaley Cuoco: which team can get from one end of the U.S. to the other with the lowest CO2 emissions possible?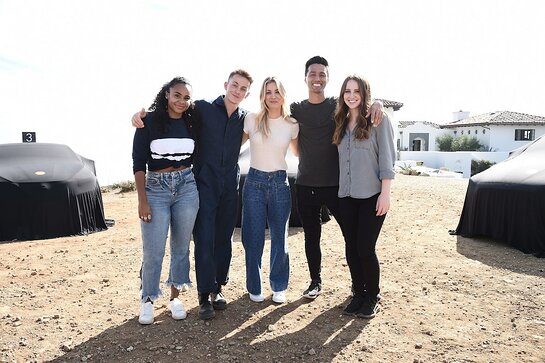 Kaley has challenged two teams of YouTube stars: Sara Dietschy and pro skater John Hill, who will be going head-to-head against Joanna Franco and Damon Dominique (aka DamonAndJo). Their challenge, – a five-part digital series called The Great Travel Hack – is part of Shell's #MakeTheFuture campaign.
With nearly 30 percent of the world's total energy use coming from transport and travelers increasingly interested in reducing their impact on the environment, The Great Travel Hack – which is the latest part of Shell's #MakeTheFuture campaign – aims to show how we can all hit the road, have fun, meet new people or do business while making choices to reduce our carbon footprint.
Route 66 has long been an iconic road trip. The Great Travel Hack reimagines that journey by hitting the road with quite a number of emerging, but much cleaner energy solutions, from hydrogen-powered cars and electric dune buggies to INMOTION unicycles. As these low-carbon vehicles pass through Nevada, Nebraska and Ohio, they will provide a glimpse into the future of transport.
Kaley Cuoco, who hosts The Great Travel Hack, said: "I love to travel, it's a great way to relax and reboot – especially when I'm working with a busy filming schedule. But travel can be clean, and that's why I got involved in The Great Travel Hack: What's out there that lets me explore and see places, but is also environmentally friendly? That's what I want to show people, how they can improve their carbon footprint!"
Gretchen Watkin, U.S. Country Chair at Shell, said: "We need to make some changes if we are to continue enjoying the personal, societal and economic benefits that travel brings. I believe that when it comes to driving a cleaner mobility future there is not one solution, but many. We are living this approach in the US. From supplying sustainable aviation fuel at San Francisco International airport to creating a hydrogen refueling network, we are working to meet the needs of our customers – both now and in the future. Through The Great Travel Hack we want to spark people's imaginations of what is possible in an engaging way."
The first leg of The Great Travel Hack is available to watch now on YouTube, before the challenge continues across Europe and Asia over the next year.