By Scott Cable on
The Blue Card held its 83rd annual benefit gala on Monday, April 8, 2019 at the Museum of Jewish Heritage in NYC. The evening was hosted by Bravo's Andy Cohen.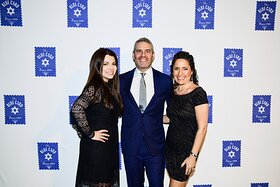 The evening included the presentation of awards to individuals and groups dedicated to supporting the needs of Holocaust survivors and advancing human rights worldwide. The honorees included: Joe Biden, 47th Vice President of the United States; Stanley Bergman and Dr. Marion Bergman of Henry Schein, Inc. and the Henry Schein Cares Foundation; David Miliband, President and CEO of the International Rescue Committee and former UK Foreign Secretary; New York Foundation for Eldercare; and past participants in The Blue Card's Bnei Mitzvah Project, a program where Bar and Bat Mitzvah students engage with and perform acts of service for survivors.
"The Blue Card is proud to recognize Vice President Biden, Stanley and Dr. Marion Bergman, David Miliband, the New York Foundation for Eldercare and alumni of our Bnei Mitzvah Project for their dedication to raising awareness and taking action to support the current plight of Holocaust survivors in the United States who are so critically in need of financial assistance," said Masha Pearl, Executive Director of The Blue Card. "Thousands of Holocaust survivors from your neighbors to people you pass on the street lived through the unthinkable. The hard truth is for many of them survival still remains a struggle. Those individuals living at or below the poverty line must make difficult choices – whether to pay rent, buy food or get desperately needed medicine. The Blue Card's goal is to raise funds for current programs which deepen our connection with survivors in communities currently being underserved. We greatly appreciate the work of this year's honorees, and are looking to the larger community to help spread awareness about those still in need."
The Blue Card, is the only national nonprofit in the US solely dedicated to providing direct aid to Holocaust survivors in need. The mission of The Blue Card is to provide direct financial assistance to needy Holocaust survivors living across the United States to help them live their remaining years in dignity and with respect. This mission is incredibly time-sensitive as at least 50 percent of Holocaust survivors alive today are expected to pass away within the next 10 to 20 years.
The mission of The Blue Card is to provide direct financial assistance, with utmost respect and ever mindful of their dignity, to needy Holocaust survivors in the United States. Financial assistance is available on a monthly basis for most basic needs, as well as for emergencies, such as medical and dental care, special equipment, rent and utility shut offs, along with many other programs.
Founded in Germany in 1934, and reestablished in the United States in 1939, The Blue Card has distributed nearly $35 million to Holocaust survivors to date, with 100 percent of annual contributions made by individuals going directly to survivors. The Blue Card is certified by the Better Business Bureau (BBB), has the highest 4-star rating from Charity Navigator and was named as one of the best Jewish charities by Federal Times.