Here's your chance to be Chris Hemsworth's VIP guest at the Men In Black: International NYC premiere.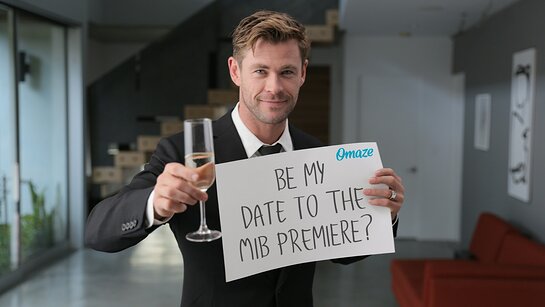 A new charity contest from omaze.com is giving you the chance to meet Chris and attend an after-party – and all you have to do is donate to charity. The more you donate, the more chances you have to win.
You and a friend will walk the red carpet, meet up with Chris and be one of the first to see what new threat he has to save the universe from. And when the credits roll, that may mean the end of the movie, but it's far from the end of your night. You'll join Chris at the invite-only after-party to share a toast together and take so many photos you'll start thinking the flash is a neuralyzer (we promise it's not). Flights and hotel included.
Donations will go to the Australian Childhood Foundation. Australian Childhood Foundation works to bring love back to children affected by the trauma of child abuse and family violence. The Foundation was established to give children, whose pain was unacknowledged, a voice to ensure their safety and care became a priority within the community. The counselors, educators and professional advocates at the Foundation work passionately to ensure children hurt by abuse, neglect and family violence are helped to heal. Your donation will help the Australian community defend childhood and children while ensuring they feel loved and safe.
To find out more about this opportunity, visit omaze.com.