The Boris Lawrence Henson Foundation (BLHF), founded by actress and activist Taraji P. Henson, held the inaugural "Can We Talk?" Benefit Dinner on Friday night at the Newseum in Washington D.C. BLHF Executive Director Tracie Jenkins presented American actress, singer and activist, Jenifer Lewis with the first ever "I Rise" Award for her trailblazing philanthropic efforts to erase the stigma around mental illness.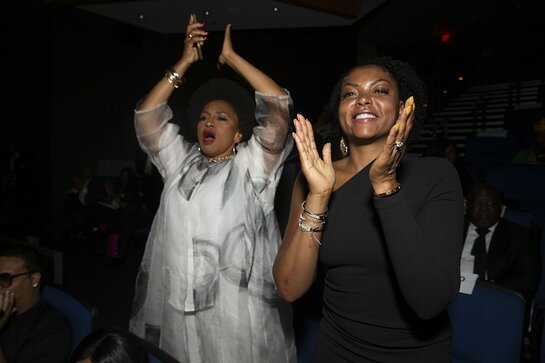 Lewis accepted the awards saying, "I came to slay. We're going to fight this disease and we're going to win and we're going to take care of our babies."
The black-tie benefit dinner kicked off the "Can We Talk?" Conference, a 2-day event dedicated to supporting African-Americans who seek therapy but may not otherwise have the means to cover costs. Special guests of the dinner included: honoree Jenifer Lewis, Charlamagne the God, Morris Chestnut, Congresswoman Bonnie Watson Coleman, Traci Braxton, Roz White and BLHF Youth Ambassador Isan Elba and featured a performance from Grammy Award winning artist Lalah Hathaway who performed an acapella version of "A Song for You."
Executive Director of the Black Mental Health Alliance, Jan Desper Peters introduced the evening's keynote speaker Dr. Altha J. Stewart, the first African American and first woman to be named President of the American Psychiatric Association. Later in the evening, Henson took the stage to pay tribute to her dear friend, the late director John Singleton, whose groundbreaking career in black cinema highlighted previously untold stories of people navigating the hurdles inflicted by race, violence and cultural identity and his fierce advocacy for greater inclusion in entertainment.
Community partners for the dinner included NAMI, The DC Office of Cable Television and Film, and the Kennedy Center, along with sponsors BTST Services, EHE Health, The Family Institute (Chicago), Jackson Health Foundation, Sheppard Benefits Group, Inc. and Mckissack & McKissack who ended the speaker portion of the programming with a surprise donation of $100,000.00 to support BLHF's efforts to increase access to culturally conscious mental health professionals.