Sitting on a circus pedestal with a heavy ball and chain wrapped around her ankle, Chilli — of the multiplatinum trio TLC — stars in a new ad campaign for PETA that blasts UniverSoul Circus, which is based in her native Atlanta and is notorious for using abusive exhibitors with long histories of animal welfare violations.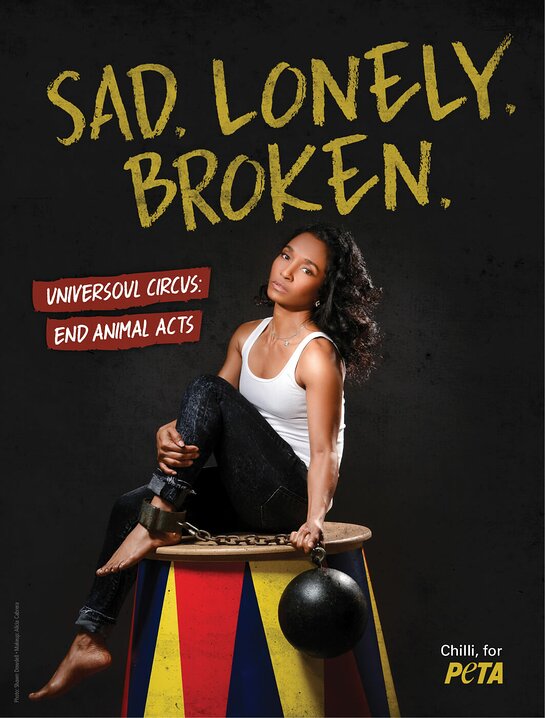 The ad proclaims, "Sad. Lonely. Broken. UniverSoul Circus: End Animal Acts."
In an accompanying video spot, Chilli rails against circuses that use animals, who, she explains, are caged, chained, and beaten: "Before being educated myself, I had no idea what the animals went through behind the scenes," she says. "They're … in prison, and no [one] wants to be locked up. They can't really go outside and roam the way they are supposed to naturally."
The Grammy winner and mother has a message for others: "I want to encourage parents all around to not take their kids to UniverSoul …. These beautiful wild animals belong in the wild, not [in circuses] for our entertainment …. I hope that UniverSoul … will think about this and remove the animals from the show."
PETA — whose motto reads, in part, that "animals are not ours to abuse" — notes that Fulton County animal control officers in Georgia have documented numerous animal welfare issues at UniverSoul, including an injured zebra, wounded camels, and a wounded elephant. Federal records show that a limping tiger was denied veterinary care, elephants were denied foot care, and big cats were locked in cramped cages 24/7, all while on tour with the circus.
Ringling Bros. — once the largest U.S. circus — shut down in 2017, citing the public's changing attitude toward the use of animals in entertainment, as demonstrated by declining ticket sales. Kelly Miller Circus is now touring animal-free, and a growing number of cities and even states across the country have banned traveling wild-animal acts.
Chilli previously appeared as a "caged tiger" in an anti-circus campaign for PETA.